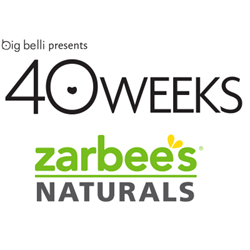 New York, NY (PRWEB) September 16, 2014 (PRWEB) September 16, 2014
Big Belli, an industry leading brand for expectant mothers, today announced its partnership with Zarbee's, makers of the fastest growing natural cough syrup for children and new immune support products for children as young as 2+ months old and beyond. Zarbee's products are free of drugs, alcohol and artificial dyes. Big Belli complements its innovative pregnancy documentary by adding a valuable resource to its ecosystem of partners.
The goal of Big Belli's 40 Weeks documentary is to offer expecting mothers multifaceted support. Zarbee's natural products were developed to help mothers soothe their children when they have a cough or sore throat and, most recently, to help support their immune systems. For these reasons, partnering with Zarbee's on the 40 Weeks documentary was a logical choice.
Dr. Zak Zarbock, founder of Zarbee's, developed his products with the health of children and their whole families in mind. In fact, Zarbee's was formed so Dr. Zak could introduce a line of natural products in response to the limited options available for his patients and their families. After successfully producing an effective, natural cough syrup for infants, the Zarbee's brand was born. Today, Zarbee's goal is to help babies, children and the whole family -- when they are most susceptible – to stay on track with their day-to-day activities.
Big Belli strives to be a visual information hub for expectant families by offering natural solutions, educational information, and communal advice in filmed format. Big Belli's and 40 Weeks' mission is to support women to have the healthiest pregnancies possible. The new partnership will support the success of the unprecedented documentary.
To learn more, watch the webisodes and meet the expectant families in 40 Weeks, please visit http://40weeksthemovie.com/about-movie/about/
About Big Belli:
Big Belli is a parenting content media and social networking brand committed to the health and well-being of babies and mothers. For expectant families, Big Belli provides an emotional connection, easily digestible pregnancy information, in film form, and a community of people who can share experiences and expert advice. With its first offering of the documentary 40 Weeks, Big Belli is on its way to providing moms-to-be with a comforting place to turn to during this joyous, yet stressful time in their lives.
About Zarbee's
Founded in 2008 by pediatrician Dr. Zak Zarbock, Zarbee's Naturals manufactures the nation's #1 natural cough product and a complete line of "family-safe" health and wellness products that are free from drugs, alcohol, gluten and dyes. Recommended by more than 40,000 pediatricians nationwide, Zarbee's products are formulated with a special blend of natural actives and fortified with vitamins. Zarbee's continues to innovate with doctor-formulated and recommended products for the entire family, including immune support supplements, products for cough and sore throats, occasional sleeplessness and seasonal congestion. Zarbee's products are available at these and other retailers nationwide: Target, Walmart, CVS, Walgreens, Rite Aid, Kroger and Kmart. For more information, visit http://www.Zarbees.com.
Zarbee's Ranks 552 on Inc. 5000 List for 2104
Zarbee's Naturals was just awarded 552nd place on the Inc. 5000 list for 2014. Inc. Magazine creates this list to showcase its "picks" for the 5,000 fastest-growing private companies in the United States year by year. Zarbee's is proud to have been selected for this prestigious list.