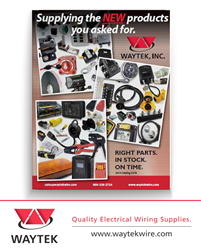 Minneapolis, MN (PRWEB) September 15, 2014
The catalog features nearly 400 new products that have been added to inventory since the general line catalog was released in January 2014. The catalog is available in a 20-page print version or a downloadable electronic version for ease-of-use.
The New Product catalog contains nearly 400 new products that have been added since Waytek released the 148-page print catalog showcasing its full product line. New products featured in the catalog include the E-COPILOT fuel savings device that can save up to 10 percent in fleet fuel costs; Star Warning Systems LED Beacons and light bars; EATON converters and equalizers; a heavy duty line of electrical products engineered to withstand the demanding applications in specialized vehicle electrical systems; and, hundreds of other new products.
All new products are in stock now and ready to ship.
The electronic catalog is available for download to a computer desktop and can be searched by a variety of methods including manufacturer, manufacturer part number, and application. Saving the high-resolution Waytek electronic New Product catalog to a computer desktop is a user-friendly feature that has proven popular with buyers and engineers.
The electronic version of the catalog also allows customers to search the catalog by product including item numbers, product categories, new products, and by product use.
It has the additional click-and-go feature that lets customers click on a product and go directly to the Waytek website to access data sheets, technical specifications or to order the product.
The 20-page print catalog has full-color photos and clear descriptions of each product and product numbers for each piece. The Waytek website address, toll-free phone number and email address are conveniently provided in the catalog and can be used when orders need to be placed. All products are new since the latest catalog mailed in January 2014.
"Customers have relied on our product catalog for decades," Jim Keister, marketing manager at Waytek, Inc. "We take great pride in our product breadth and new products, but also in making our catalogs functional and easy-to-use for our customers."
The new catalog is now available. It can be accessed online at http://info.waytekwire.com/digital-np-catalog or requested by contacting Waytek, Inc. at (800) 328-2724.
About Waytek: Waytek, Inc. carries more than 10,000 electrical supplies for OEM and MRO mobile equipment markets. Founded in 1970, the company has seen continued expansion in the electrical supplies industry. Waytek carries large quantities of stock items and is able to ship most stock items the same day, allowing customers to carry smaller inventory, yet have products when they need them.