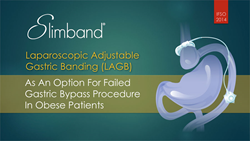 "Slimband was very honoured to have been asked to share some of the results of our work in the ongoing battle against obesity by a forum as prestigious as the IFSO,"
Toronto, ON (PRWEB) September 17, 2014
At the recent 19th World Congress of the International Federation for the Surgery of Obesity and Metabolic Disorders (IFSO) in Montreal, the Slimband Clinic's surgeons presented the results of a study that conclusively demonstrates that gastric banding (AKA, laparoscopic adjustable gastric banding, or LAGB) can successfully achieve weight loss outcomes that patients had previously been unsuccessful in attaining with a much more surgically invasive gastric bypass operation.
The study tracked fifteen Slimband patients who underwent gastric banding after a less-than-successful bypass operation and discovered the following: After a gastric bypass, patients enjoyed some excess weight loss, but not enough to bring their BMI (body mass index) to a desired target where they were no longer classifed as Morbidly Obese, i.e., their mean BMI shrank from a mean 52kg/m2 to 40.5kg/m2. For those bypass patients who subsequently underwent gastric banding, their BMI shrank from a mean 40.5kg/m2 to a mean 36.6kg/m2, much closer to the desired target range.
Moreover, much co-morbidity associated with severe excess weight significantly improved, or was totally resolved after gastric banding, again results not achieved with the earlier gastric bypass procedure. Diabetes resolved in 50% of the patients; sleep apnea improved dramatically in half of the patients and resolved totally in a further 25%; GERD (acid reflux) improved in half the patients and resolved totally in the other half. Hypertension showed no significant changes.
Our study clearly concludes that gastric banding, or LAGB, is an extremely effective revisionary procedure for patients who fail to achieve desired weight loss outcomes after gastric bypass surgery.
"Slimband was very honoured to have been asked to share some of the results of our work in the ongoing battle against obesity by a forum as prestigious as the IFSO," notes Slimband founder and CEO, Michael Scot-Smith. "The data presented in Montreal only taps a small part of the invaluable cache of information the clinic has accumulated over the decade or so it's been operating. It's our hope and expectation that Slimband will be able to share further reports and insights with IFSO, ASMBS, CABPS and other likeminded organizations in the coming years."
About Slimband
Slimband is Canada's premier weight loss group, specializing in reversible laparoscopic weight loss surgery with a unique 5-year aftercare program that includes nutritional counseling and coaching. Clients benefit from safe, long-lasting weight loss, increased energy levels and in many cases, the control or elimination of weight aggravated conditions like sleep apnea and type 2 diabetes. Slimband has helped more than 8,000 patients realize their dreams of losing excess weight and feeling their best.