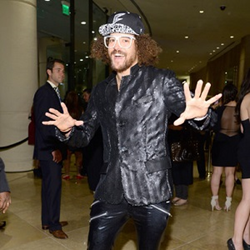 "This is incredible. I feel very positive about my future and more clear [about] what I need to do. This great direction for me 'cause I'm a little all over the place." -Redfoo
Langhorne, PA (PRWEB) September 18, 2014
Rapper, singer, songwriter, actor, and record producer, with over 50 chart topping singles in four years. It's safe to say T-Pain will try just about anything. But psychic readings? Yes, the "Auto-Tune" sensation admits to consulting an Advisor from Psychic Source, the most trusted psychic service since 1989… and they recorded the whole thing!
T-Pain's not the only one. LMFAO counterpart, Redfoo, also dabbled in his fair share of psychic advice and had a surprising and exciting reading during which Psychic Crystal remarked, "I can go all over the place with you sweetheart."
You're probably wondering what T-Pain would ask a psychic about, but apparently there's plenty! During his reading (Psychic Source recorded the full audio with the artists' permission) T-Pain asked Psychic Paige a number of things about his future, his career, and even his sex life!
"Trust me, there'll be a number of [girls] interested in hooking up with you. In terms of the sex factor, you have no problems there," Paige reassured T-Pain in response to his hesitance on hitting the club that evening.
But the reading had a more serious tone when the rapper admitted some fears about the future of his career. Check out the reading highlights on video, titled Psychic Source Celebrity Readings: Episode 1, to find out Paige's predictions for T-Pain's future.
In Redfoo's reading, Psychic Crystal made an interesting discovery: "I see yellow around you," to which he responded, "Yellow is an interesting color to me 'cause I see music in colors and one of my favorite songs that I've made is in yellow."
These artists aren't the only celebrities to get readings with Psychic Source Advisors. In fact, Psychic Source Celebrity Readings: Episode 1 and the blooper reel also feature parts of readings with Lady Antebellum, Grace Potter, Ian Ziering, and G.R.L. Watch and find out juicy details on the Sharknado movie series, Grace Potter's possible future affair, and more!
*****
About Psychic Source:
Founded in 1989, Psychic Source is the nation's oldest and most respected psychic service. Psychic Source's advisors are experts in astrology, horoscopes, numerology, tarot cards, clairvoyant readings, and many other psychic disciplines. Psychic Source believes in its community of authentic Psychics and stands behind the authentic psychic readings they deliver to clients. Visit them online at http://www.psychicsource.com.
For more information, contact:
Maryanne Fiedler, Marketing Director
maryanne(at)psychicsource(dot)com
215-953-8568