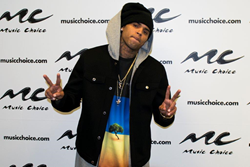 (PRWEB) September 15, 2014
Multi-platinum artist Chris Brown is teaming up with Music Choice—the multi-platform video and music network— to promote the launch of his sixth studio album "X." He will be taking over Music Choice Play for the entire day on Tuesday, September 16th with fans deciding what Chris Brown videos air next, leading up to a special presentation of the network's entertainment news show "You & A." The entire thirty minute show will focus on Brown's highly-anticipated album "X" and air in a special time slot Tuesday, September 16th at 7:30pm ET. Brown will sit down with host Clare Galterio to talk about exclusive behind-the-scenes moments from the album, what fans can expect to hear musically, and much more!
Chris Brown is the number one performing artist on Music Choice Video On Demand (VOD) since it was launched back in 2005 generating over 410 million views for his vast catalog. As a result, to coincide with the takeover, extended content will be featured across all Music Choice platforms including Music Choice Music Channels, Video On Demand, MusicChoice.com, and its social media properties. Tracks from his newest album "X" will appear throughout the day in power rotation on Music Choice's Hit List, Hip Hop R&B, and Pop Rhythmic music channels leading up to the "You & A" special.
Damon Williams, VP Programming at Music Choice stated: "Chris Brown is the first artist that we have rolled out the red carpet for to take over all three of our platforms – Music Choice Play, Video On Demand and Music Channels. Chris has consistently delivered great music and content in partnership with Music Choice. Chris is the #1 most popular artist on VOD since we launched; a true testament of his music and ability to entertain our viewers instantly from when he launched his career. Music Choice is proud to be on Team Breezy and to help launch his album X to our millions of viewers nationwide."
For more information about Music Choice Play, log onto http://play.musicchoice.com/ or to become part of the Music Choice Play community join us on Twitter: @MusicChoicePlay or Facebook.
About Music Choice:
Music Choice, the multi-platform video and music network, delivers its music programming to millions of consumers nationwide through their televisions, online and mobile devices. Music Choice programs dozens of uninterrupted music channels; produces originals that feature today's hottest established and emerging artists; offers thousands of music videos; and launched Music Choice Play, the music video, lifestyle and entertainment network for Millennials. For additional information log on to http://www.MusicChoice.com | Twitter: @MusicChoice | Facebook: http://www.facebook.com/MusicChoice