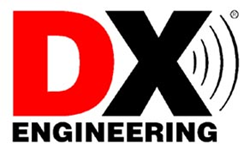 Tallmadge, OH (PRWEB) September 16, 2014
Amateur Radio operators can now get JK Antennas' high performance antennas exclusively from DX Engineering. That means enthusiasts will enjoy DX Engineering's fast shipping and hassle-free order-to-delivery process, along with JK's superior antenna designs.
Amateur Radio contesters and DXers know that building an HF antenna from scratch can be a challenge. JK Antennas solves that with antennas that deliver optimum gain and bandwidth—no guesswork or tricky component matching required.
As JK Antennas' flagship product, the JK404 Grande is a 40 meter Yagi antenna that offers up to 6.16 dBd (8.31 dBi) gain with a 1.5:1 SWR (or better) across the entire 40M band. The antenna uses four full size elements (73 foot maximum element length), mounted on a 45.5 foot boom. It weighs 325 pounds with a maximum turning radius of 43 feet. Despite the JK404 Grande's large size, it only has an 18.7 square foot wind area and can withstand wind speeds up to 96 mph.
For operators that want to rule the 6 meter band, the JK65 from JK Antennas features up to 9.2 dBd gain with a 1.5:1 SWR (or better). The JK65 has 5 elements on a 15 foot boom and the longest element is less than 10 feet. That helps contribute to a turning radius of a mere 9 feet, and wind load of just 1.37 square feet. The antenna weighs about 14 pounds and will survive winds up to 125 mph (no ice).
See JK Antennas at DXEngineering.com
DX Engineering
http://www.DXEngineering.com
1-800-777-0703