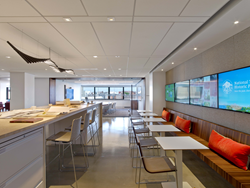 Our job is to make an organization's office design work best for staff to help achieve its mission
Washington, DC (PRWEB) September 17, 2014
An open office environment allows employees to brainstorm and collaborate, but it is imperative that companies also provide the appropriate number of collaborative and concentration spaces in order to allow for productivity both individually and in group settings. The design professionals at OTJ Architects have found that an effective open floor plan will provide strategically placed quiet rooms for "heads down" work, large conference rooms, huddle/team rooms for small meetings and social areas for staff engagement and camaraderie.
Open workplace culture necessitating this mix of collaborative spaces can be attributed partly to the millennial-generation employees who will comprise 46 percent of the workforce by 2020, according to The Washington Post.
"The open-office shift makes sense because younger generations have grown up with this type of flexibility," said Lance Jaccard, Partner at OTJ Architects. "But it is important that offices include spaces to allow for both concentration and collaboration to support all types of working styles and employee demographics."
When a mix of various types of workspaces are offered, it provides employees with options to select the space that best accommodates the type of working style that will best get the job done. Working in the most appropriate environment to be productive also leads to improved overall comfort for staff.
Whether large or small, today's workplaces will provide greater enjoyment and productivity when they best accommodate how their employees interact and work with one another. If staff members do not feel there are appropriate types of spaces to meet in groups and also focus in a quiet environment, frustration can occur. In addition, the right amount of collaborative and concentration spaces need to be included in the workplace design to ensure there is not a shortage when needed.
For OTJ client National Trust for Historic Preservation (NTHP), the nonprofit embraced a cultural shift by adopting a full open office, in which even the CEO sits at a workstation. However, OTJ's design team worked closely with NTHP to incorporate closed room environments that provide space for individual concentration or impromptu meetings such as phone rooms, team rooms and an informal lounge. Client feedback has shown the staff enjoys the new office environment and employee collaboration has increased significantly through constant use of the collaborative spaces.
"Our job is to make an organization's office design work best for staff to help achieve its mission," Jaccard said. "In today's world, this means really getting to know a company's working styles to incorporate the open and closed environments that will support both collaboration and concentration. It's all about making employees feel comfortable."
Contact OTJ Architects to discuss your architectural needs today.
About OTJ Architects
OTJ Architects is a well-respected national interior architecture design firm that has successfully completed thousands of projects throughout the country. Founded in 1990, OTJ is comprised of five studios headquartered in Washington, DC, with more than 60 architects and designers, many of whom are LEED Accredited Professionals. OTJ is registered in 37 states and is able to consult in all 50 states. The responsive interior architecture consultants create effective environments through listening, understanding and tailored design. These designs focus on helping clients enhance collaboration, company branding and employee recruitment and retention. OTJ's design teams provide clients with personalized attention to create workplace solutions that reflect their unique, individual needs. For more information visit otj.com.