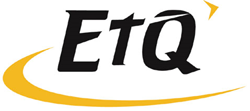 In this webinar, we will review what it means to have visibility and control in your food safety system and why this is so important
Farmingdale, N.Y. (PRWEB) September 15, 2014
EtQ, a provider of Quality, Compliance and Environmental Health and Safety (EHS) software, today announced its upcoming joint webinar, "How to Gain Control and Visibility in Your HACCP Process."
This webinar, hosted by Food Quality & Safety, will be held on September 16th at 2:00pm ET and will feature FSSC 22000's U.S. Liaison, Jacqueline Southee and EtQ's Channel Manager, Tom Barlow. The webinar will look at the way the food manufacturing industry currently manages its food safety practices and will outline the key concepts behind promoting traceability in the supply chain, controlling processes to a state of audit readiness and fostering a closed loop system that will provide you with a compliant and sustainable Food Safety Management System (FSMS).
Topics will include:

How to implement a controlled system
Effective supplier management methods
How the regulatory landscape fits into the dynamic of solutions
"In this webinar, we will review what it means to have visibility and control in your food safety system and why this is so important," stated Barlow. "Attendees will also learn what makes an FSMS effective and what tools are available to the market to help simplify compliance with food safety regulations."
Register for the webinar here. For more information, contact EtQ at info(at)etq(dot)com or 800.354.4476. Visit us on the Web at http://www.etq.com.
About FSSC 22000
FSSC 22000 is a Food Safety Management Certification System that provides a framework for effectively managing an organization's food safety responsibilities. Fully benchmarked by the Global Food Safety Initiative (GFSI), FSSC 22000 is based on existing ISO Standards and demonstrates that a company has a robust Food Safety Management System in place to meet the requirements of both customers and consumers. With over 8000 certified organizations in 146 countries, FSSC 22000 provides a HACCP based, globally recognized certification that can be applied to the entire food supply chain. For more information visit http://www.FSSC22000.com
About EtQ
EtQ is the leading Food Safety, EHS, Quality and Operational Risk and Compliance management software provider for identifying, mitigating and preventing high-risk events through integration, automation and collaboration. Founded in 1992, EtQ has always had a unique knowledge of Quality, EHS and Operational Risk and Compliance processes, and strives to make overall quality operations and management systems better for businesses. EtQ is headquartered in Farmingdale, N.Y., with main offices located in the U.S. and Europe. EtQ has been providing software solutions to a variety of markets for more than 20 years. For more information, please visit http://www.etq.com or contact us at 800.354.4476.