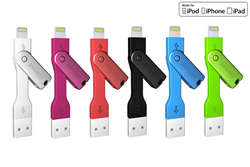 Mykey is unique key cable which is durable and pliable.
Shenzhen, China (PRWEB) September 18, 2014
Individuals who want to charge their device on the go in a stylish manner are in for a surprise. After Esorun introduced their 3in1 keychain charger (KR800 and KR1000) along with the 2.7inch cute flexible cable, they received thousands of inquiries. Many asked to make a simple charging keychain cable that is as small as possible. That is where the idea behind Mykey came about.
Mykey will be released as a crowdfunding project via Indiegogo. Indiegogo is a popular crowdfunding site that was founded by Danae Ringelmann, Eric Schell and Slava Rubin back in 2008. Their headquarters is based out in San Francisco, California and it was one of the first sites available that offered crowd funding.
Mykey is an adorable 2.7inch pliable and durable keychain cable. While travelling, it sticks to the key ring or bag. Many will enjoy the silicone material as it makes the product soft to the touch and flexible. The sides are angular, making it simple, yet strong. With all of those features, Mykey is unique, useful and stylish, all in one.
Here are the product features:

Material: PVC and Silicone;
Length: 72mm;
Cable dimension:67*12*5.5mm
Colour: Orange, Pink, Green, Blue, White, Black;
Insulation impedance: 0.2mΩ. Min;
Overcurrent: 2.4A (Maximum).
Mykey is durable, patented (pending), colourful, stylish, bendy, convenient, has a soft-touch and it even has an MFi certificate for lightning connector (for an Apple device).
Individuals need Mykey for a variety of reasons. With this product, individuals will no longer forget their charging cable, they will not have to deal with annoying loose cable and it is not easy to break, unlike the normal charging cable.
About Mykey
Mykey is a new product created by Esorun. The product allows individuals to charge their apple device in a stylish manner, while on the go.