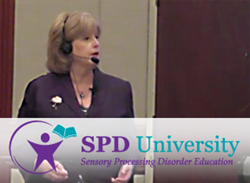 We are excited to be able to present such notable speakers for the Signature Series.
Denver, Colorado (PRWEB) September 15, 2014
Sensory Processing Disorder (SPD) Foundation has just launched an exciting and informative lecture series through SPD University. Upcoming lectures will be presented by prominent leaders and researchers in the field of SPD.
The first Signature Series lecture will broadcast live on September 16, 2014, 8:30-10:00 PM EST. "Helping the Picky Eater at School (#1008)", is presented by world renowned feeding expert, Kay A. Toomey, PhD, Psychologist and Director of feeding program at STAR Center. Toomey will discuss why children struggle with eating well at school, especially children who are "picky eaters". The characteristics of "picky eating" will be outlined along with how these difficulties cause eating at school to be more challenging. Simple strategies that families and school staff can use to improve children's eating at school will then be presented. This lecture is appropriate for parents, caregivers, clinicians, teachers, mental health and medical professionals.
Dr. Toomey is a pediatric psychologist who has worked for nearly 30 years, with children who don't eat. She is the developer of the highly effective, family-centered S.O.S. Approach to Feeding in successful use worldwide to assess and treat children with feeding problems.
Upcoming lectures will include prominent leaders in the field of SPD including:

Carol Kranowitz, Author of the "Out-of-Sync" Child -- An Introduction to SPD
Edward Goldson, MD, Pediatrician at Children's Hospital Colorado -- Medical Evaluation of the Challenging Child
Serena Wieder, PhD, Clinical Director of Profectum and Founder of Interdisciplinary Council on Developmental and Learning Disorders (ICDL) -- DIR/FLOORTIME Model
Susan Bazyk, PhD, Professor in the Occupational Therapy Program at Cleveland State University -- Integrating OT Services into Natural School Contexts to Foster Participation and Enjoyment Throughout the Day
Stephanie Capshaw, OTD, OTR/L, Education Director of SPD Foundation -- An Introduction to SPD for Classroom Teachers
Claudia Shulman, President and CEO of Sensational Learners, Inc -- Video-Self Modeling: Enabling Children to be Successful Learning New Tasks by Watching Themselves in a Video Performing a Task
People can join the SPD Foundation email list to receive announcements as to when upcoming lectures will be presented.
"We are excited to be able to present such notable speakers for the Signature Series" said Sheryl Benjamin Executive Director. "They bring a wealth of experience in SPD that practitioners and parents will find extremely informative."
SPD University offers the latest online courses and lectures developed by the leading authorities on Sensory Processing Disorder with a rich set of e-learning opportunities for professionals and parents. As part of a redesign for a more seamless experience with improved navigation, SPD University introduces extended viewing times of 30 days. SPD University course offerings include:
Definitions and intervention strategies of SPD for home, school, and clinic
Informal sessions focusing on topics of interest to those impacted by sensory challenges and presented by STAR Center staff
Assessments - the newest and most commonly used standardized scales and parent report measures for evaluating children with SPD
S.O.S. Approach to Feeding - advanced courses designed to further the skills of professionals who have already attended an SOS Approach to Feeding Basic 3-Day Workshop
ABOUT SENSORY PROCESSING DISORDER FOUNDATION The Sensory Processing Disorder (SPD) Foundation, a Colorado 501(c)(3), is the world leader in research, education, and awareness for Sensory Processing Disorder, a neurological condition that disrupts the daily lives of more than 4 million Americans. The SPD Foundation offers educational programs, conducts SPD research, and provides resources for parents worldwide. Dr. Lucy Jane Miller, widely recognized as a leader in SPD research worldwide, founded the SPD Foundation in 1979. The SPD Foundation provides hope and help to individuals and families living with SPD. For more information, visit SPDFoundation.net or call 303-794-1182.