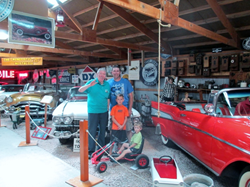 Murdo, SD (PRWEB) September 16, 2014
On September 20, 2014, Pioneer Auto Show will be celebrating four generations of collectables, cars, and family fun with a full day of activities, music, and festivities, including:

Live 1950's music from 11:00 am – 5:00 pm
$1 admission to Pioneer Auto Show all day
"Elvis" will be on the grounds for photos and questions
Car Parade at 3:30 pm – public is welcome to join!
$1 coke and hot dog special
Old time music boxes and organs will be playing throughout the day
Tractors and motors will be fired up and running
275 cars, 60 tractors, and 60 motorcycles on display in 46 buildings
30% off most gift shop items
Pedal tractor drawing
Don't miss this opportunity to flash back to the 1950's with this fun-filled day of entertainment and nostalgia.
Dave Geisler Sr., owner of Pioneer Auto Show says, "It is tremendously exciting to be celebrating our 60th anniversary. We have such a unique history, and so many different collections that have been added through the past 60 years." Geisler adds, "This day is going to be full of music and fun, and we can't wait to share it with our guests."
The party will continue into the night from 9:00 pm – 2:00 am at the Rusty Spur on East 5th Street with live music by Undercover to dance the night away.
About Pioneer Auto Show
With more than 250 vintage cars, trucks and motorcycles, the Pioneer Auto Show & Prairie Town is one of the largest, privately-owned auto shows open to the public with 46 buildings of exhibits, 60 tractors, 60 motorcycles, toys, animations & music machines and an entire Prairie Town. The famed South Dakota car museum also carries a wide range of antique collectibles and a famous collection of Zeitner rocks, gems and fossils.
###