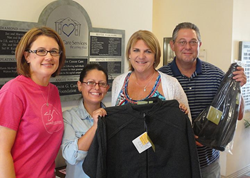 Fort Worth, TX (PRWEB) September 17, 2014
Through various fundraising efforts, Apex Capital, a factoring company in Fort Worth, TX, presented Cancer Care Services of Fort Worth with 33 RonWear-Port-able Clothing jackets for patients undergoing chemotherapy. The fundraiser was inspired by Apex employee, Dilek Debose, who is currently fighting the battle with acute lymphoblastic leukemia.
A group of Apex employees initially purchased a jacket for Debose when she began chemotherapy treatments, and after receiving rave reviews, the company opened up a fundraiser to purchase more jackets for individuals in the community undergoing cancer treatments. RonWear Port-able Clothing, is comfortable active wear for chemotherapy, dialysis and other infusion therapy offering men and women in treatment warmth, dignity and ease without sacrificing their style or comfort. Visit http://www.ronwear.com for more information.
Cancer Care Services, a United Way organization in Fort Worth, TX provides services to cancer patients and their families in Tarrant, Hood and Parker Counties. Apex established their relationship with Cancer Care Services through their Corporate Giving Program because the company believes in "caring for others and making a difference." Apex employees are encouraged to invest their hearts and time into the community by participating in fundraisers throughout the year which benefit local organizations.