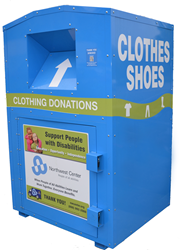 Lakewood, WA (PRWEB) September 15, 2014
As summer makes its switch to fall, Oakbrook Elementary families are asking residents to keep them in mind as they switch out their warm weather garbs for sweaters and boots.
From September 15th through the 29th, Oakbrook Elementary PTA is hosting a clothing drive fundraiser to collect used clothing, shoes, accessories, and other cloth items to raise money for their students.
Working in partnership with local non-profit Northwest Center, the Oakbrook PTA is asking the community to collect items they are no longer in need of and bring them to the school for donation.
A collection bin for the items is located in the parking lot near the parent drop-off to allow 24-hour access for residents to leave donations.
About Oakbrook Elementary School:
It is the mission of Oakbrook Elementary School, in partnership with the community, to meet the individual needs of each student, empowering them to acquire the knowledge, skills and attitudes to live productively and responsibly in a diverse and ever-changing world.
About Northwest Center:
Northwest Center offers essential support to people with developmental disabilities by offering early intervention, inclusive classrooms, employment services, and jobs. When people of all abilities learn and work together, everyone benefits. Learn more http://www.nwcenter.org