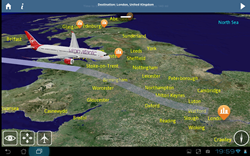 Marked departure from the status quo of moving map products
Irvine, CA (PRWEB) September 16, 2014
Virgin Atlantic has recently completed an agreement to launch FlightPath3D from Betria Interactive as their next generation Moving Map & 'geotainment' service. The new service offering includes the latest version of the FlightPath3D product suite and will enter into service later this year.
"FlightPath3D is a marked departure from the status quo of moving map products," noted Catherine Stewart, Onboard Media Development Manager at Virgin Atlantic. "Beyond its incredibly captivating 3D experience, the service is infused with interesting and detailed Point-of-Interest content that can engage the passenger in a rich and informative interactive experience."
The FlightPath3D integrated in-flight moving map service, for airline passengers to enjoy in-flight, includes a flight preview "auto-play" script broadcast during aircraft boarding as well as an in-seat interactive 3D map application with detailed satellite imagery and integrated street maps. The service boasts an incredible 25,000 named locations from across the world in up to 12 languages. The City Destination Guide includes an initial 36 destination cities with expansion plans for many more all with detailed street-level city maps and rich, multi-media Point-of-Interest data.
"Virgin Atlantic only selects the most premium of offerings to ensure a world class passenger experience," explained Boris Veksler, President of Betria Interactive. "We believe the FlightPath3D product suite delivers on that commitment; not only today, but will deliver current, relevant and engaging audience experiences well into the future."
About Virgin Atlantic
Virgin Atlantic was founded by entrepreneur Sir Richard Branson 30 years ago with its inaugural flight to Newark on 22nd June 1984. Today, Virgin Atlantic's fleet of 39 Boeing & Airbus aircraft serve 34 global destinations including locations across North America, the Caribbean, Africa and the Far East. Virgin's next fleet expansion is pending delivery of 16 new Boeing 787 Dreamliners from September 2014.
Virgin Atlantic has set new standards of service with a range of pioneering innovations. Recently it redesigned its Upper Class cabin, including a new seat and a futuristic bar which is the longest in the sky. Additionally, its entire leisure fleet of aircraft recently competed a £50 million renovation and included a newly designed more comfortable seat and the latest generation touch screen in-flight entertainment system, offering over 300 hours of the latest films, television shows, music and games.
Virgin Atlantic has enjoyed huge popularity, winning top business, consumer and trade awards from around the world, including the Smart Technologies Award from The Wearables 2014 for its innovative trial of Google Glass and Sony Smart Watches in its Upper Class Wing. Other awards include best long-haul airline and best airport lounge at the Telegraph Ultra Travel Awards and Europe's leading airline lounge for the Heathrow Clubhouse at The World Travel Awards. The airline was recently placed 8th in the UK Coolest Brands League and last year was named Travel Brand of the Decade.
For more information, visit us at http://www.virgin-atlantic.com.
About Betria Interactive
Betria Interactive offers the best-in-class in-flight moving map experience through its flagship product FlightPath3D. The FlightPath3D product suite delivers excellence in both the aircraft passenger experience and in the end-to-end information service required by airlines, data providers, sponsors and advertisers in their effort to reach this highly desirable and captive audience. FlightPath3D presents an unparalleled experience and is available with multiple licensing solutions and in almost any application or browser-based configuration an airline would need.
Betria Interactive, LLC, is headquartered in Irvine, California. For additional information, please visit our website at http://www.FlightPath3D.com or come visit us at our booth #1448 at the upcoming APEX show in Anaheim, CA this September.