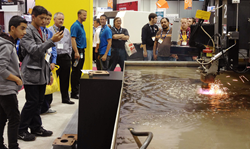 Florence, SC (PRWEB) September 15, 2014
ESAB Welding & Cutting Products demonstrated the latest in welding automation and CNC cutting at IMTS 2014, The International Manufacturing Technology Show, held September 8 - 13, at Chicago's McCormick Place. According to the show's organizer, attendance figures indicate that IMTS 2014 is one of the top three shows in the event's history, proving the continued leadership of manufacturing in the overall economy.
ESAB showcased the flexibility of pre-engineered robotic cells with the Swift Arc SL system, a side-load robotic cell featuring a new tandem Swift Arc Transfer (SAT™) MIG welding process. The robotic cell in combination with tandem SAT process achieves travel speeds well beyond the limits of normal spray arc welding for high productivity automated welding.
The Swift Arc SL is designed for robotic welding of large parts at high production rates. Enhancing the speed and productivity of the robotic cell was a new tandem SAT process that uses twin welding wires running simultaneously through the cell's robotic torch to deliver exceptionally high deposition rates. This high-productivity MIG welding process produces flat welds with good penetration and without undercut. Its low heat input results in less deformation, which minimizes post-weld labor helping lower production costs.
ESAB Cutting Systems highlighted the Hydrocut™ LX, a combination waterjet and plasma cutting system. The machine uses the patented combination of thermal and non-thermal processes operating on the same gantry, allowing it to cut with the high accuracy of waterjet where needed, but employ the high speed and low cost of plasma whenever possible.
By combining waterjet and plasma on the same machine, both tools can be used on the same parts. High precision contours can be cut with waterjet, while non-critical contours can be cut with plasma. This patented system allows users to obtain precise cuts when needed without sacrificing speed on every cut. Parts that are suited for the waterjet-plasma combination can be cut in a fraction of the time, resulting in a dramatic cost reduction and productivity increase when compared to waterjet cutting alone.
At IMTS 2014, ESAB won the "IMTS: Everywhere You Look" Photo Contest. The show asked exhibitors to recreate the IMTS logo using their products, their staff, or anything they could think of. ESAB's creative entry, showcasing the cutting precision of the ESAB m3 Plasma™ System, won the competition.
IMTS (http://www.IMTS.com) is the largest and longest running manufacturing technology trade show in the United States held every other year. Recognized as one of the world's preeminent stages for introducing and selling manufacturing equipment and technology, IMTS attracts more than 100,000 visitors from every level of industry and more than 112 countries. IMTS is owned and managed by AMT – The Association For Manufacturing Technology.
ESAB Welding & Cutting Products is a recognized leader in the welding and cutting industry. From time-honored processes in welding and cutting to revolutionary technologies in mechanized cutting and automation, ESAB's welding consumables, equipment, and accessories bring solutions to customers around the globe. For more information, visit http://www.esabna.com or call 1-800-ESAB123.