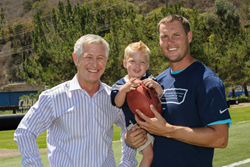 We are so grateful for the support from our community, including Kevin Acee and Philip Rivers for making `Passing It On' possible and, of course, for the generous matching gift from the Walter J. and Betty C. Zable Foundation - Chuck Day
San Diego, CA (PRWEB) September 16, 2014
San Diego, CA. (September 16, 2014) When U-T San Diego sports columnist Kevin Acee crafted his April 28 column "Helping Kids, Families with Some Passes," he hoped that the story about two-year-old Stephen Russell – who loves Cheetos, is insatiably curious, and will almost certainly undergo a third gruelling heart surgery before the age of five -- would inspire readers to dig deep and donate to the Ronald McDonald House Charities of San Diego, which has been a haven for Stephen's family. One of those readers agreed to join Acee in the campaign. That was San Diego Chargers' quarterback Philip Rivers, who along with Acee is leading the "Passing It On" campaign.
The Passing It On campaign challenges Chargers fans to support San Diego's Ronald McDonald House Charities by pledging anywhere from 10 cents to $1 or more for every passing yard that Rivers completes this season. Rivers and Acee have each pledged $1 per yard, respectively, and the Walter J. and Betty C. Zable Foundation has generously agreed to match funds raised up to $50,000.
"San Diego's Ronald McDonald House relies on support from the community to continue to provide a 'home away from home' for families like the Russells, who need a place to regroup, recharge and find some normalcy in an otherwise chaotic time," said Chuck Day, president and CEO of Ronald McDonald House Charities of San Diego, which was founded in 1980. "We are so grateful for the support from our community, including Kevin Acee and Philip Rivers for making `Passing It On' possible and, of course, for the generous matching gift from the Walter J. and Betty C. Zable Foundation. Because of this outstanding leadership and support, we can continue to provide hope and healing for the families we serve."
"As a parent, I know how scary having a sick child can be -- but that pales in comparison to what Stephen's family has endured day after day," said Kevin Acee, who has since published a follow-up column 'Helping Philip Rivers Pass It On.' "I have been so moved by the incredible people at the Ronald McDonald House Charities of San Diego, and it's a privilege to help spread awareness and raise funds. And as for Philip Rivers, his integrity and leadership are an inspiration, and he was completely on board from the first moment we spoke about this worthy cause."
"Ronald McDonald House Charities of San Diego is a great community partner of the U-T and we couldn't be more proud of this cause. We are very pleased with Kevin Acee and Philip Rivers for supporting this initiative and creating even greater awareness for the community to get involved. We look forward to tracking the total yards and amount of donations raised throughout the season," said Mike Hodges, U-T San Diego President and COO.
Chargers fans and all other San Diegans can be part of The Passing It On campaign by visiting http://www.passingitonsd.com. The website also includes a special video featuring interviews with Philip Rivers, Kevin Acee, and members of the Russell family including Stephen.
For all other information including media inquiries, please contact Stephanie Brown, Senior Director, Marketing and Public Relations of U-T San Diego at 619-823-9794 or stephanie.brown@utsandiego.com or Price Adams of Nuffer, Smith & Tucker at 619-296-0605 or pa@nstpr.com.
About Ronald McDonald House Charities of San Diego
Founded in 1980, Ronald McDonald House Charities of San Diego provides a "home away from home" to families with children being treated for serious, often life-threatening conditions at local hospitals. San Diego's Ronald McDonald House was specifically designed to meet the needs of families – including 47 overnight bedrooms and a Family Care Center meeting daytime needs with a kitchen serving warm meals, showers, laundry facilities, nap rooms and a children's play area. With a sense of normalcy restored, the nearly 15,000 family members the Ronald McDonald House serves each year can focus their energy on helping their hospitalized child heal. Charity Navigator has given the organization the highest rating available – four stars – based on the charity's financial health, accountability and transparency. To learn more, visit http://www.rmhcsd.org.
About U-T San Diego
The San Diego Union-Tribune, LLC, owner of the 145-year-old U-T San Diego, is San Diego's leading media company and its most comprehensive source of news, entertainment and information in the region. Each week, products are delivered to more than 96 percent of all San Diego County households through its integrated media portfolio: the Pulitzer Prize-winning newspaper, U-T San Diego; the website, UTSanDiego.com; Sunday's Best; The Night + Day, DiscoverSD and DiscoverSD.com weekly entertainment guides; Spanish-language products Enlace and Vida Latina-San Diego; U-T TV, an Emmy award-winning on-demand video news source; and hyper-local community papers, U-T Community Press.
Learn more at http://www.utsandiego.com
# # #