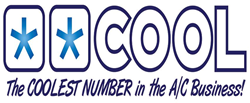 StarStar Direct takes the hassle out of marketing a service business and helps contractors stand out in a crowded marketplace.
MIAMI (PRWEB) September 17, 2014
StarStar Direct, a Miami-based national marketing firm centered on heating, ventilation and air conditioning (HVAC) businesses, is now offering its leading-edge technology to HVAC contractors nationwide. HVAC contractors can connect with consumers immediately through a service that allows customers to call **COOL in their local area to reach a contractor with just a few touches on their cellphone keypad.
"Throughout the U.S. the number of residential HVAC businesses is growing, and using the unique StarStar technology can really make a local heating and air company stand out when marketing to potential customers," said Rocco DiBenedetto, owner of StarStar Direct. "Contractors purchase the service for their local area to have the exclusive use of **COOL in their marketplace. When customers dial **COOL from their mobile device, they get connected directly to the StarStar Direct HVAC business located in their area."
The StarStar approach is available in many different categories, and hundreds of national brands have used the technology to take their marketing to the next level. Brands like UPS, Target, NFL, Dunkin Donuts, and many others have used the numbers to engage with their customers, and Cool Solutions is hoping to generate positive engagement as well.
StarStar Direct's service allows HVAC businesses nationwide to offer this simple and easy way for customers to call without trying to jot down a 10-digit number from an ad, billboard or service vehicle. And, using the **COOL number can increase revenue, with up to 80 percent improved number recall. Nearly 34 percent of all online users are mobile only, meaning they use only their mobile devices and have no other computer or telephone. That's up from just nine percent in 2012. In addition, 41 percent of mobile users browse on their mobile devices for a product after seeing it on an ad on television.
"With mobile phone usage increasing every year, it's no wonder that mobile marketing is gaining importance," DiBenedetto stressed. "And using **COOL is one of the newest and easiest ways for an HVAC business to gain an edge in an ever competitive marketplace."
For more information about this exciting new service visit, http://www.starstardirect.com.
About StarStar Direct
Founded in 2012, StarStar Direct is a national marketing firm supporting heating, ventilation and air conditioning (HVAC) businesses. By offering state-of-the-art solutions for businesses, StarStar Direct connects customers with contractors using the latest innovative marketing strategies. StarStar Direct is dedicated to connecting HVAC contractors with their customers and potential customers in the easiest most memorable way possible. For more information visit, http://www.starstardirect.com.
###
For additional information, contact:
Heather Ripley
Ripley PR
hripley (at) ripleypr (dot) com
865-977-1973