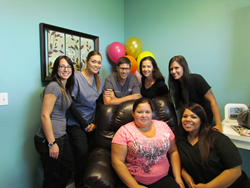 You have no idea how much this procedure has improved my confidence
Las Vegas, NV (PRWEB) September 17, 2014
Liposuction is now the most popular cosmetic procedure performed in the country with 363,912 procedures performed in 2013 according to The American Society for Aesthetic Plastic Surgery (ASAPS). These number are actually up 16.3% from 2012.
"To my knowledge, MyShape Lipo is the only clinic in the country running a contest of this nature," says Trevor Schmidt PA-C the Liposuction Specialist at MyShape Lipo. "It's been so much fun helping these people in need, fulfill their goals of a slimmer body."
MyShape Lipo has been hosting this contest giving away liposuction procedures since 2011. Arlene is the 8th winner thus far and has yet to redeem her prize. With over 40,000 entries into the contest, Arlene was fortunate enough to be chosen out of the bunch.
"I can't believe I actually won," exclaims Arlene, the winner of the contest. "I'm so excited to get my procedure, this is going to change my life. I've worked so hard on diet and exercise without results. Hopefully MyShape Lipo can get this fat out of me once and for all."
The contest has proven to be a big success in raising awareness of the liposuction procedure. In addition, the 7 previous contest winners have experienced a life changing procedure which has significantly enhanced their confidence. To enter the contest, simply go to their website at http://www.MyShapeLipo.com and click on the link to enter your contact information and get your chance to win.
"You have no idea how much this procedure has improved my confidence," says Amelia Garcia the 4th winner of the contest. "I am more active now and have the energy to keep up with my 8 year old. I dropped 5 sizes from a size 17 to 12 and I'm still working hard at my diet and exercises to lose more."
Contest winners have come from as far as Maryland and New York to Sacramento and Las Vegas. The interest in MyShape Lipo continues to grow as the word spreads of their specialized services in liposuction and fat transfer, all offered at a fair rate of nearly 1/3 the national average.
Flying in for your procedure could not be easier. MyShape Lipo has teamed up with a local hotel to offer complimentary pick up from the airport as well as transportation to and from the office for your procedure. With transparent affordable pricing and extensive specialized experience of over 15,000 liposuction procedures, it appears they have it all figured out.
"It was so easy, I flew in from Sacramento for my procedure and had no issue with transportation," says Craig Deluz, the 3rd winner of this contest. "The procedure was so much easier than I thought it would be. I was even able to go see a show on the strip the night after my procedure. MyShape Lipo is a class act liposuction facility in my book."
About MyShape Lipo
A specialty clinic focusing on liposuction and fat transfer, MyShape Lipo is attracting patients from around the world for their specialized skills and affordable rates. Trevor Schmidt PA-C, the liposuction specialist at MyShape, has the experience of over 15,000 liposuction procedures on all shapes and sizes of both men and women. They've been able to accomplish consistently high quality, smooth and even results for their patients. They offer a complimentary "Body Shape Analysis" both in person or over the phone to assess your needs and questions. Call today to schedule 702-818-5476.