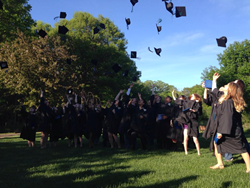 NWPHS has come a long way since its humble beginnings based in a strip-mall, helping seniors and drop outs obtain High School Diplomas rather than GEDs.
Coon Rapids, MN (PRWEB) September 24, 2014
Northwest Passage High School began as Coon Rapids Learning Center in the late 1990s. Starting out as a work-based credit recovery program for seniors, super seniors, and drop-outs, NWPHS has come a long way since its humble beginnings based in a strip-mall, helping seniors and drop outs obtain high school diplomas instead of GEDs.
Northwest Passage charter school underwent a name change and re-focus in 2006, became a secondary school, grades 9-12th, with project based learning styles (PBL), S.T.E.A.M., a small learning community with focus in building field studies and overnight learning expeditions.
NWPHS has a long standing relationship with several organizations including the Wildlife Science Center, The Minnesota Literacy Council, and YMCA Camp Icaghowan. Students from NWPHS have built a play structure for five black bears at the Wildlife Science Center (WCS), contributed to a bobcat enclosure, helped run the annual "Howling for Wolves" Halloween event, as well as help maintain the property and help support the mission of exposing students to wildlife and potentially nurture future careers. In addition, project based learning paired with the Minnesota Literacy Council works with recent immigrants help them transition to the United States and better their English language skills.
Northwest Passage High School also participates in expeditionary based learning, 15-20 annually at no cost to parents or students. These expeditions range from first level trips (1-2) nights to third level 7-10 day trips overseas or remote wilderness area. Expeditions give students the opportunity to gain multiple perspectives, learn and grow with other students and staff members in different environments and cultures. Previous expeditions include multiple visits Yellowstone National Park, Women in Science (to help promote young women to seek careers in science fields), oversea trips to Costa Rica and Guatemala, as well as various outdoor expeditions (hiking, canoeing, kayaking, sailing, and dogsledding). The students at Yellowstone National Park, working closely with Yellowstone Wildlife Biologists and the Montana Department of Fish, Wildlife and Parks, were able to watch a pack of wolves stalking a herd of bison one morning in Lamar valley.
Students work closely with an assigned advisor (teacher) from the beginning to the student's graduation. Advisors are teachers, coaches, advocates, facilitators and motivators and help a student devise their own learning plan based on passions and interests. Advisors are the point of contact for parents. Class sizes are 16:1 student teacher ratio.
Northwest Passage High School has taken education to a whole new level, with their project based learning and individually drafted learning plans, they are given the opportunity to contribute directly to the surrounding community and gain knowledge and cultural experience otherwise unavailable to traditional public school students. NWPHS is a tuition free public charter school open to all students. To learn more please visit http://nwphs.org/.