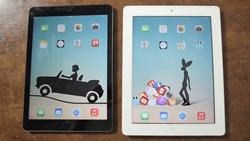 (PRWEB) September 17, 2014
A one shot video shows an interplay of gadgets playing separate animated fragments, synchronized in real time.
"Knock Knock" is a first single from an upcoming EP of the band "Brunettes Shoot Blondes", based in Kiev. The idea for the video was developed by the members of the band, who directed the project as well.
The main concept of the video was to show how different graphic elements may cooperate on different devices to create one story. Technically, all animated fragments were first drawn and uploaded on each iPhone, iPad and MacBook in advance. Then the main challenge was how to make everything work together without any editing.
"We ended up having to complete about a dozen takes before everything worked out well" said the musicians. "It is a great feeling knowing that this project was accomplished by ourselves and our friends who took part in it. Everybody had fun".
The song is available on iTunes, Amazon and Spotify.
Brunettes Shoot Blondes is a Ukrainian indie band formed in 2010. The musicians have already performed numerous concerts in their homeland and on European stages. Currently, the band is recording their debut album and preparing for a European tour.