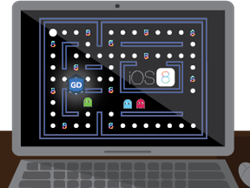 GapDebug provides immediate critical debugging for iPhone and iPad apps optimized for iOS 8.
Dallas, Texas (PRWEB) September 17, 2014
Genuitec is giving mobile developers instant support for iOS 8 in GapDebug EA 4. With compatibility for Apple's latest platform, GapDebug allows developers to test and find faults causing apps to misfire. GapDebug helps mobile developers get iPhone and iPad apps back into Apple App store faster.
Download the 'always free' GapDebug here: http://www.genuitec.com/products/gapdebug
"Every September the world looks to Apple for news of their latest iOS platform. Its release is the most anticipated consumer tech event of the year. We're stoked that GapDebug is compatible with iOS 8. Now our users can get straight to debugging updates for the new iOS without losing critical time," says Wayne Parrott, vice president of product development at Genuitec.
Apps built on the prior iOS will require updates to perform as end-users expect. Over *4 million iPhone 6 and iPhone 6 Plus pre-orders were placed in the first 24 hours. Last year's iOS release saw more than **200 million users adopt in the first 3 days of release. This rapid adoption makes speed to diagnose failures more critical than ever before. GapDebug provides immediate critical debugging for iPhone and iPad apps optimized for iOS 8.
With over 4,000 new APIs introduced in iOS 8, writing mobile applications without a robust debugger is futile. APIs give developers deeper access to a device's features and capabilities. This makes continuous debugging of mobile applications of increased importance. Thanks to GapDebug, debugging for iOS is simple with automatic reconnection to apps and seamless app installs.
In a recent review from Josh Morony, a mobile web and PhoneGap blogger, he states that "Within minutes of installing it [GapDebug] I was absolutely blown away, this is the tool I've wanted for so very long." Mr. Morony states that getting started with GapDebug was a simple "connect my device, open up GapDebug, drag and drop my .ipa into the sidebar, it installs itself on my device and I'm done – debugger ready to go." His full review is available at this link:
http://www.joshmorony.com/genuitec-release-epic-debugger-gapdebug-for-phonegap-apps/
Collaborative remote debugging is now available for Android users as an experimental feature. This bonus feature allows users to debug a connected device from anywhere it is hooked up to on the web. Regardless of location, users can connect with team members or customers to provide debugging assistance on apps.
EA 4 users will now find that the web UI debugger launches immediately when GapDebug starts. In previous builds of GapDebug users had to manually launch the debugger UI from a menu. Further, EA 4 includes a bug fix that prevented users from inspecting events on the iOS inspector timeline.
About GapDebug
GapDebug will always be free for local debugging. Just like PhoneGap and Cordova, simplicity for your development should be at your fingertips.
About Genuitec
Started in 1997 and counting over 16,000 companies in 191 countries as customers, Genuitec is a leader in the Eclipse open source community. As a founding member of the Eclipse Foundation, Genuitec has actively participated in strategy, development, and direction for the organization.
Today, Genuitec supports one of the largest developer communities for commercial Eclipse tools. Customers benefit from Genuitec's ongoing commitment to open standards and to the continual enhancement of the MyEclipse, Secure Delivery Center, PiPlug, and GapDebug product families with unique innovations and low subscription pricing.
Contact Genuitec today to learn more: genuitec.com/company/contact
Follow on Twitter: @Genuitec @GapDebug
Like on Facebook:facebook.com/Genuitec
Find on Google + : plus.google.com/+GenuitecHome
*http://www.forbes.com/sites/briansolomon/2014/09/15/apple-hits-new-record-with-over-4-million-iphone-6-preorders/
**http://www.apple.com/pr/library/2013/09/23First-Weekend-iPhone-Sales-Top-Nine-Million-Sets-New-Record.html