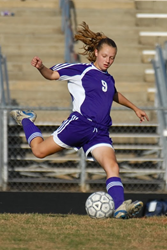 "With our new partnership with US Performance Academy, we no longer have to worry about our athletes missing practices or school assignments." - Michael Townsend, Excel Soccer Management
(PRWEB) September 16, 2014
A new partnership has formed between two youth-focused groups in order to improve young athletes' experiences. From coaching services to a college-prep education, this partnership gives high performing soccer students everything they need to be successful.
Excel Soccer Management provides a range of services include coaching, camps, tours, and events to young, competitive soccer players around the US and Europe. US Performance Academy is an online, independent, college-prep, middle and high school specifically designed to support the demanding schedule of today's athletes. These two organizations have teamed up to create a complete solution for today's competitive soccer student athlete.
Michael Townsend, Owner of Excel Soccer Management, played amateur football in the UK up to county level before taking a referee career. He began coaching in 1980 with a local boys team who went on to play youth teams at Leeds, Barnsley, Everton and Huddersfield. In 1982, he took a Leeds United representative youth team to Denmark. Five players from that team went on to become professional players most notably, Scott Sellers. He came to the States in 2001 and since 2004 has been working with Excel.
"Our athletes are driven, focused, and enthusiastic about competing." says Townsend. "They train with us up to 6 hours per week. I am passionate about their success. With our new partnership with US Performance Academy, we no longer have to worry about our athletes missing practices or school assignments. It removes the scheduling nightmares and conflicts between school and sport. We can now focus on coaching players up to 15 hours each week, knowing that our athletes are also getting a great academic experience."
Peter Smith, President of US Performance Academy, has over 25 years experience as educator in both the sailing and independent school arenas. Peter coached and qualified and competed in the final stage of the US Olympic Trials for the 2000 Games. He began his career as a teacher, coach and advisor at St. Paul's School in Baltimore, MD. He earned his Masters in Independent School Leadership from the Klingenstein Institute at Columbia University before taking a leadership position at St. Andrew's School in Savannah, GA where he spearheaded iDiscover21c, one of the first 1:1 iPad implementation programs for K-12 in the nation. In 2013, he launched US Performance Academy to solve the issues he saw in the competitive athletic world.
"We are really excited to welcome Excel into the USPA family. For years, I watched student athletes struggle to balance their athletics and their academics from both the coach and the teacher perspectives. In speaking with Michael and the folks at Excel, its wonderful that USPA can provide a solution for their serious student athletes. US Performance Academy provides the support and flexibility that high performing athletes need. With such unique aspects such as an individualized schedule, our talented learning coaches for overall support, a network of athletes, and a college-prep curriculum, we are confident that student athletes involved with the Excel program can now focus on being better soccer players without worrying about sacrificing their academics."
With US Performance Academy providing the education and Excel Soccer Management providing the athletics, students are able to stay focused and thrive in all areas.
More about Excel:
Since 2004 Excel Soccer Management through its own Atlantic Soccer Academy has provided individual soccer players with a proven long term development program towards playing Division 1 College soccer. In addition Excel, through its European affiliate ESSR, now provide opportunities for individual US players to undertake trials with or compete against high level European Academies or Professional club teams.
More about USPA:
The US Performance Academy is an online, independent school for competitive athletes in middle and high school. Blending 21st century educational innovation with world-class competitive athletics, our unique program will challenge highly-motivated students, providing them with the skills and expertise needed to compete at the highest levels of academics, sport, adventure, and life.