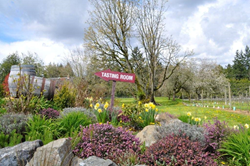 The 2nd Annual Campbell Valley Wine Run brings runners to 3 wineries along a scenic 15 kilometre route.
Langley, British Columbia (PRWEB) September 16, 2014
The 2nd Annual Campbell Valley Wine Run is taking place Sunday September 21, 2014 at the High Point Equestrian Club in Langley. Located just 45 minutes from Vancouver, this fun run promises an entertaining day of running, wine tasting and entertainment. All profits go directly to two charitable organizations supporting great causes: the Critter Care Wildlife Society and Pacific Riding for Developing Abilities.
Measuring nearly 15 kilometres, this scenic wine run starts at High Point and follows the Campbell Valley Wine Route with runners making pit stops at Vista D'oro Farms & Winery, Chaberton Estate Winery and Township 7 Vineyards & Winery, before looping back to the starting point. Each winery acts as a refreshment station welcoming runners to their estates with wine samples and other tasty snacks.
Backyard Vineyards, the fourth member on the Campbell Valley Wine Route, is hosting a post-run social with food, drink, music and prizes at the Equestrian Club. There will also be a market for runners looking to get their hands on a few of the treats they sampled along the way.
The race, which kicks off at 9:00 am, is not timed allowing runners the opportunity to catch their breath and "refuel" with some award winning wine at each stop. For those who are not as fleet of foot, there is an option to do a 15K two person relay or a 5K walk.
Participants are encouraged to come dressed in their favorite costumes with prizes being awarded for best costume, best team costume, and best surviving costume. The Campbell Valley Wine run is all about having fun, wine tasting & socializing in support of two great charitable causes.
Michelle Meacher of Pacific Riding for Developing Abilities is very grateful for the support from local running and winery communities. "Their generosity allows us to offer therapeutic equestrian activities to individuals facing a wide range of challenges, who may not otherwise have access to sport and recreation in a fun, safe and supportive environment," she says.
The inaugural wine run was a huge success and organizers say they are already ahead of last year's numbers with less than a week to go before race day.
For more information on the Campbell Valley Wine Run including registration information and to view a map of the run route visit the run website. For more information about the charities benefiting from the run, visit the charities section of the website.
_______
About Vancouver, Coast & Mountains: Vancouver, Coast & Mountains, one of six tourism regions of Super, Natural British Columbia, includes four destination areas: Metro Vancouver, Sea to Sky Country, Mighty Fraser Country, and the Sunshine Coast. This non-profit society is governed by a private sector board of directors who represent business and community tourism interests from throughout the region. VCMBC works with Destination British Columbia to utilize their combined resources and provide greater benefits to the provincial tourism industry through an integrated web presence. For more information about Vancouver, Coast & Mountains visit our website or call 604-739-9011