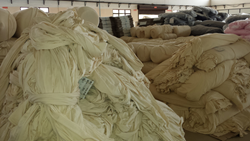 Our methods empower law enforcement organizations such as U.S. Customs and Border Protection. We see a new world with improved textile quality, globally.
STONY BROOK, NY (PRWEB) September 16, 2014
Applied DNA Sciences, Inc. (OTCQB: APDN), (Twitter: @APDN), a biotechnology firm that provides DNA-based authentication and security solutions and services, announced today that its DNA authentication technology was recently used to interdict a shipment of mislabeled textiles resulting in over $1 million of inventory held in quarantine. The products consist of an assortment of yarn, finished fabric and garments that could have been mislabeled, and subsequently, marketed and sold in retail outlets in the United States and around the world.
Some manufacturers are known to substitute cheaper fibers during the spinning of yarn and the weaving of fabric. Fiber substitution increases the gross margin for the manufacturer, but lowers product quality, durability, color fastness, texture and even safety. American and European fiber producers do the great majority of their manufacturing off-shore, and there have been no methods to affirm label compliance until APDN's patented DNA methods.
The company believes that no other taggant can match the information content, forensic assurance of DNA, nor is there likely to ever be a taggant with better quality assurance – hence APDN's customers and DNA-marked products are "future-proofed."
APDN has independently purchased garments and linens at large retailer outlets: the company's DNA authentication testing revealed in some cases that as much as 80% of the products tested were not compliant with their own product labels. In the US, this is in violation of the Lanham Act, normally enforced by the Department of Justice and monitored by the Federal Trade Commission.
Specifically, it is difficult to assess the quality of premium products, such as luxury bed sheets. The typical "bed in a bag" sheets that retail for $75 or less that are labeled 100% Pima, may in fact contain shorter staple cotton fibers which mean that the sheets may not perform, look as good, or in some cases start to deteriorate after a few washes. The potential "cheating in sheeting" phenomena can involve the use a polyester finish to make the initial look and feel of the bed sheet brighter, with the intent to mislead the consumer into buying a sub-standard product. In addition to fiber substitution, the widely advertised thread counts, which are designed to measure the number of threads per square inch, can also be misleading to consumers. Ultimately, manufacturers bank on the fact that consumers will not realize they are being sold products that are not quite as they are labeled.
"We are proud to say that Applied DNA Sciences can protect textile retailers, brand owners, buyers of fine fabrics and their suppliers and consumers from the tricks that are not revealed until the second or third wearing, as the product begins to fail. Our methods empower law enforcement organizations such as U.S. Customs and Border Protection. We see a new world with improved textile quality, globally," stated Dr. James Hayward, President and CEO of APDN.
About Applied DNA Sciences
APDN is a provider of botanical-DNA based security and authentication solutions and services that can help protect products, brands, entire supply chains, and intellectual property of companies, governments and consumers from theft, counterfeiting, fraud and diversion. SigNature® DNA describes the uncopyable marker that is at the heart of all of our security and authentication solutions. SigNature DNA is at the core of a family of products such as DNAnet®, our anti-theft product, SigNature® T, targeted toward textiles, and digitalDNA®, providing powerful track and trace. All provide a forensic chain of evidence and can be used to prosecute perpetrators.
The statements made by APDN may be forward-looking in nature. Forward-looking statements describe APDN's future plans, projections, strategies and expectations, and are based on assumptions and involve a number of risks and uncertainties, many of which are beyond the control of APDN. Actual results could differ materially from those projected due to our short operating history, limited financial resources, limited market acceptance, market competition and various other factors detailed from time to time in APDN's SEC reports and filings, including our Annual Report on Form 10-K filed on December 20, 2013 (amended on May 1, 2014) and our subsequent quarterly reports on Form 10-Q/A (for the quarterly period ended December 31, 2013) and Form 10-Q. APDN undertakes no obligation to update publicly any forward-looking statements to reflect new information, events or circumstances after the date hereof to reflect the occurrence of unanticipated events.