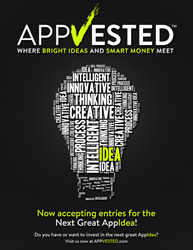 "I've lost count of how many times someone would exclaim, 'I have a great idea for an app,'"
Charlotte, NC (PRWEB) September 16, 2014
APPVESTED™, LLC is an equity-based crowdfunding platform which constitutes the next step in mobile application development. It is a venue by which idea, inventor, and investor can finally meet.
The strong emergence and success of equity-based crowdfunding, coupled with the record growth of the mobile market (65% over just three years - source), establishes APPVESTED as a needed resource to connect carefully vetted application ideas, called AppIdeas, creative-minded inventors (AppVentors), and accredited investors (AppVestors). By carefully selecting only the most opportune AppIdeas brought forth by willing and creative minded entrepreneurs, APPVESTED seeks to develop, launch, and market each AppIdea using its proprietary "AppValue" method: an app-based business opportunity model.
"Statistics show that the equity crowdfunding market is set to grow exponentially over the next few years, moreover - the mobile market is expected to grow at an accelerated rate as well. We are poised and extremely enthusiastic to be on the ground floor of this exciting and innovative market," said Matthew Worsman, Co-Founder. "APPVESTED is positioning itself as the leader in 'Crowd-bridging.'"
APPVESTED works to create real value for all parties involved. In return for investment, investors will receive an equity share in the mobile application, and for a funded AppIdea, inventors will receive royalties based on revenue generated by the application.
"I've lost count of how many times someone would exclaim, 'I have a great idea for an app," said Jeff Brokaw, Co-Founder. "Friends, colleagues, and acquaintances all shared the same problem, and would never follow up because they had no concept of how the process worked. They didn't have the time, money or skill set to develop an app. APPVESTED is our way of helping with the process."
At the intersection of bright ideas and smart money, APPVESTED is the new frontier in mobile development - it simplifies the difficulties and nuances in designing and launching a mobile application while bridging the gaps inherent. The next great AppIdeas are already being conceived - let them be actualized with APPVESTED.