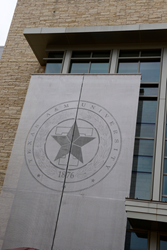 "Cambridge mesh's visual beauty can transform an ordinary space where a logo or sign might be hung into an extraordinary work of art that brands the project in a distinct way." -- Cambridge Architectural Managing Director Matt Aebischer
Cambridge, Maryland (PRWEB) September 16, 2014
From skylines, campuses and storefronts to interior lobbies and sales floors, marketers are increasingly working with architecture firms and designers to create unique branding opportunities in new construction projects and renovations. Cambridge Architectural said it has seen a marked increase in signature branding projects in 2014 incorporating the company's metal mesh fabrics for decorative wall panels, building facades and signage.
"Our mesh is woven by skilled artisans and is designed with specific geometry, open area, dimension and flexibility," said Matt Aebischer, Cambridge Architectural Managing Director. "Its visual beauty can transform an ordinary space where a logo or sign might be hung into an extraordinary work of art that brands the project in a distinct way."
Cambridge can blast-etch logos and lettering onto its metal mesh. The process creates a long-lasting image suitable for exteriors that can withstand weather and environmental conditions.
Because of the openness of the weave in many Cambridge patterns, metal mesh can also be used as a curtain or backdrop for logos and signage, including those that are lit at night, according to Aebischer. It can also serve as an elegant accent for high-end interior retail displays where the mesh is used to enhance the brand image.
Examples of signature branding projects incorporating Cambridge Architectural metal mesh, include:

Texas A & M University, College Station, Texas: Living up to the reputation in Texas that bigger is better, Cambridge Architectural Graph mesh with a blast-etched Texas A&M seal was used to create a dramatic entrance to the University Memorial Student Center. The metal mesh hangs on two side-by-side, 27-foot panels with a Cambridge Rigid Mesh in-tension attachment system engineered specifically for the project.
Moreno Valley College, Moreno Valley, California: Three large Mid Balance stainless steel mesh panels etched with MVC lettering hang on a 35-foot glass curtain wall covering the exterior of the school's new Student Academic Services Building. In addition to being a striking visual display, the stainless steel mesh panels act as a sustainable building façade, providing significant solar shading and daylighting benefits in this California desert region.
Washington Street Bridge, Norwalk, Connecticut: The Metro-North Railroad bridge is the center of The Norwalk Redevelopment Agency's initiative to brand the SoNo neighborhood (South Norwalk). SoNo lettering in Cambridge stainless steel Graph patterns appears on a street-level wall underneath the bridge canopy. The reflective lettering is lit at night with rotating colors.
RAR Brewery, Cambridge, Maryland: A stainless steel mesh curtain etched with the brewery's signature palindrome logo was recently installed as an art installation and serves as a backdrop for RAR's musicians' performance space. Cambridge's Mid Balance pattern was used to create the nine by 11-foot curtain that is mounted using Eclipse attachment tubes.
Port of Champlain U.S. Border Crossing: One of Cambridge Architectural's original branding projects in 2006, letters etched on metal mesh panels spell out United States of America over the 10-lane wide facility on I-87, one of the busiest northern border crossings. Highly durable, the metal mesh withstands the harsh winters of the Adirondacks. Panels with the word Champlain were also used to outfit a cargo processing facility at the crossing.
Top Golf: Panels of Cambridge Scale flexible mesh accent the building exterior at TopGolf's original Houston location, one of the largest of its 17 golf entertainment facilities in the U.S. and England. The versatile mesh, mounted with Cambridge's Eyebolt attachment system, serves a dual function at night as the backdrop for a sophisticated light show that includes the Top Golf logo.
Retail Stores: Louis Vuitton, Urban Outfitters, Loewe and Jimmy Choo are among the retail brands that have used Cambridge Architectural mesh for store-based logo/signage projects or to accent images and artwork within their stores.
Corporate Headquarters: Comcast and Red Bull are two of several corporations that have used Cambridge Architectural mesh for interior branding in corporate headquarters buildings.
About Cambridge Architectural
Cambridge Architectural, a division of Cambridge International, is the most experienced full-service provider of sustainable architectural mesh systems for both interior and exterior building applications. As the world leader in tensioned mesh systems, Cambridge Architectural metal fabric solutions lend unique aesthetic appeal, functionality, affordability and sustainable benefits to a variety of structures interior and exterior. Cambridge Architectural offers full system design, engineering and collaboration from concept through installation – in the most challenging building environments and under the strictest budgets. Cambridge Architectural metal fabric systems are categorized by the primary applications they serve, including parking structures, exterior shades, facades, canopies, curtains and others. As a member of the United States Green Building Council, Cambridge Architectural is committed to promoting methods, technology and products resulting in environmentally responsible and healthy buildings. The Cambridge Architectural team develops systems that meet or exceed LEED requirements and provides consultation and direction on a project-by-project basis. Visit http://www.CambridgeArchitectural.com for more information.
###