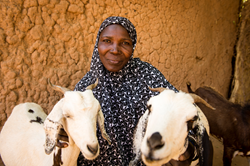 Portland, OR (PRWEB) September 15, 2014
The humanitarian crises of the African Sahel have drawn international attention, which has succeeded in addressing the immediate needs of millions of people. But the response has thus far failed to increase the complex region's capacity to withstand future shocks and stresses.
According to new research from the global humanitarian agency Mercy Corps, numerous structural barriers and unequal power dynamics need to be addressed to create the capacity for people to cope, adapt and rebound. Among the many factors, one issue looms large: gender inequality.
"Despite years of aid, vulnerable families continue to teeter between survival and disaster," says Sahar Alnouri, senior gender advisor at Mercy Corps. "Donor and aid agencies must better integrate gender into resilience-focused programming to break this pattern."
The report includes many recommendations including:

Provide opportunities for women and girls to build bonds by creating or strengthening "safe spaces" and support networks across and outside their communities.
Strengthen links of women and youth to informal and formal governance structures, and work with communities to empower women and youth in collective action processes, such as disaster risk reduction, natural resource management, conflict management and social protection processes.
Increase women and girls' access to and control over productive inputs (land, financial services and agricultural tools), resources, services and technologies.
The report is a product of a literature review, gender analyses, and field research conducted by Mercy Corps in Mali, Niger, and Northern Nigeria from June 2013 to January 2014, designed to examine the differing vulnerabilities and capacities of men, women, boys, and girls in the Sahel. Download the full report "Rethinking Resilience: Prioritizing Gender Integration to Enhance Household and Community Resilience to Food Insecurity in the Sahel."
About Mercy Corps
Mercy Corps is a leading global humanitarian agency saving and improving lives in the world's toughest places. With a network of experienced professionals in more than 40 countries, we partner with local communities to put bold ideas into action to help people recover, overcome hardship and build better lives. http://www.mercycorps.org.