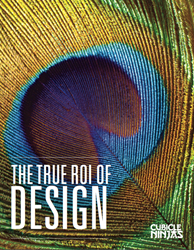 Believe it or not, a peacock understands the concept of design quite well.
Glen Ellyn, IL (PRWEB) September 16, 2014
Cubicle Ninjas releases 'The True ROI of Design', a white paper that discusses why businesses should invest in high-quality design.
According to Cubicle Ninjas' marketing coordinator, Shannon Callarman, what makes this white paper unique is its whimsical comparison of the return on investment (ROI) of design to the ROI of a peacock's tail. "Believe it or not, a peacock understands the concept of design quite well," she states. "It uses its hyper-colored tail to attract mates for reproduction, resulting in a huge payoff on its investment in design."
According to National Geographic, the peacock has used his wits and design savvy to expand his habitat to 1.8 million square miles. Although most businesses don't have the same goals as a peacock (we hope not at least), this white paper raises awareness that design, whether in nature or in the business world, truly pays off.
The True ROI of Design shows why it's important for businesses to view design not as an unnecessary expense, but rather a strong investment, with up-to-date statistics in the following categories:

How good design equals better stock performance.
Proven design results around the world.
How design leads to growth.
Where there is disruptive change, there is a need for design.
Download a copy of Cubicle Ninjas' white paper, 'The True ROI of Design' by visiting http://info.cubicleninjas.com/true-roi-design
About Cubicle Ninjas:
Cubicle Ninjas is a full-service creative design agency. Their innovative design-focused development approach transforms ideas into highly effective apps, websites, print campaigns, motion videos, and much more, all for the world's greatest brands. Their emotionally driven design work has been recognized in hundreds of articles, galleries, and awards.
Media Contact
Josh Farkas
630.940.6337 | Josh(at)cubicleninjas(dot)com