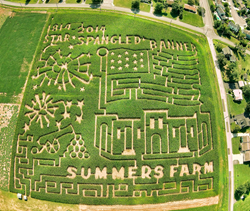 For over 18 years, we offer homegrown fun and farm-fresh adventure!
Frederick, Maryland (PRWEB) September 17, 2014
The amber waves of grain at Summers Farm cornfield maze this fall will be carved into a design that celebrates the 200th anniversary of verses written by lawyer and poet, Francis Scott Key, that eventually became our national anthem in 1931. Fort McHenry and "bombs bursting in air" will be a patriotic tribute to the Star Spangled Banner.
While tall ships fill Inner Harbor at Baltimore for the Star Spangled Spectacular, Summers Farm will be putting the finishing touches on this year's red, white and blue theme for the 18th annual Fall Harvest Festival.
For 80 years, this scenic 100 acre working farm in Frederick, Maryland, has been home to the Summers family. They grow hay, soybeans, wheat, corn … and lots of pumpkins. Fourteen acres of 12-foot tall corn becomes the centerpiece of the fall festival, with paths cut through it in intricate designs to form a maze puzzle for visitors to explore. The farm's call to action is, "Get lost and have fun!"
While the farm is open to the public for only six weeks each fall, they pack the days with lots of old-fashioned fun on the farm. "This is a place to make memories," says owner Teresa Summers Greenwood. You can take a tractor-drawn hayride around the farm, stopping off at the ever-popular pumpkin patch to choose from thousands that have grown and ripened right here in the field.
The historic old barns at the farm house traditional farm animals that are anxious for petting and food treats from visitors. The pigs at Summers Farm will be in training all summer for the races -- and the pig racing arena is a real crowd pleaser each fall, with folks cheering on their favorite porker.
Nothing reminds us of fall quite like the smoky scent of a campfire. There are over 27 little campfires crackling each weekend at the farm, and they are surrounded by sociable groups toasting marshmallows or roasting wieners. Laughter fills the air and there's an occasional burst of song as friends and family grow close to enjoy the warmth of the flames.
It's all about family here at Summers Farm where the Greenwoods are raising their boys. Activities and attractions are geared towards visitors of all ages. Little folks will enjoy playing in grain bins filled with crunchy corn. There are giant hillside slides, two jumping pillows, a few steers to rope, and hippity-hop balls to bounce around on. Play a round of farm-flavored miniature golf. Shoot apples from a big cannon! Ride ponies or take a ride on the little Pumpkin Train.
A favorite competitive activity at the farm is rubber duck racing. Put your muscles to work pumping water the old-fashioned way -- from brightly colored hand pumps, sending little rubber ducks racing down narrow troughs on a stream of water. The laughter is contagious while cheering little bobbing ducks! On the weekends there's live music on the Silo Stage! Come for the day and come back again at night to explore the corn maze by flashlight!
Fresh air and fun can make you hungry, but there's lots to eat at the Barnyard Grill. Choose from burgers, hot dogs and fries to bakery goodies, Kettle Corn or homemade apple cider donuts. Home to the Maryland Pumpkin Festival, the farm celebrates all things pumpkin on the weekend of October 11-12 with pie eating contests, face painting, pumpkin decorating and other activities. For more information, visit http://www.summersfarm.com.