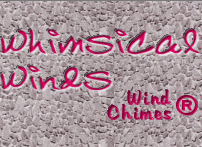 We believe that wind chimes make a special addition to these beautiful fall displays. We're pleased to be able to provide our favorite chimes at a special price for such a nostalgic time of the year
Clarksboro, NJ (PRWEB) September 16, 2014
The largest online wind chime retail store, Whimsical Winds, just announced that they are offering fall specials on their e-commerce site in honor of the arrival of autumn. All featured wind chimes will be discounted and may qualify for free shipping or a free personalized engraving.
"Autumn evokes a special feeling for all of us at Whimsical Winds," said Alexander Innes, owner of Whimsical Winds. "We love when families begin to decorate their yards with fun fall decorations, such as pumpkins, scarecrows and cornstalks. We believe that wind chimes make a special addition to these beautiful fall displays. We're pleased to be able to provide our favorite chimes at a special price for such a nostalgic time of the year."
Very special additions to the fall sale are the exclusive Amazing Grace Wind Chimes. These chimes are hand tuned to the first six notes heard in the opening measures of "Amazing Grace," one of America's best-loved hymns. Purchase Whimsical Winds' #1 most popular tuning at 30% off regular pricing, with the addition of a free personalized engraving.
Other featured wind chimes of the fall include Grace Note Seasonal Chimes and Shenandoah Melodies. Grace Note Chimes are discounted at 10% off and ship for free, while all Shenandoah Melodies included in the sale come with a free engraved wind sail that can be personalized to consumers' liking.
Whimsical Winds' fall specials will only be available for a limited time. To view the fall specials, please visit their sale's page at http://www.whimsicalwinds.com/c/Whimsical_Winds_Personalized.html. No special code is needed to qualify for these discounts.
About Whimsical Winds
With over 800 styles available and in stock, Whimsical Winds is the largest wind chimes e-commerce site on the web. They offer the top-selling brands of high-quality wind chimes. Browse collections of wind chimes, hear audio previews and find other home and garden gifts on their website: http://www.whimsicalwinds.com