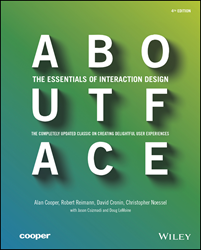 Indianapolis, IN (PRWEB) September 16, 2014
The interaction design profession is thriving with the success of design-intensive companies, priming customers to expect "design" as a critical ingredient of marketplace success. Consumers have little tolerance for websites, apps and devices that don't live up to their expectations, and the responding shift in business philosophy has become widespread.
Professionals and students involved in creating interactive technologies and products will find About Face: The Essentials of Interaction Design, 4th Edition (Wiley; ISBN: 978-1-118-76657-6; September 2014; US $50.00) to be a comprehensive guide that includes new information on touch interfaces, mobile apps, screen size considerations and more. Taking the worldwide shift to smartphones and tablets into account, the new full-color interior and unique layout better illustrate modern design concepts.
Designers and developers looking to remain relevant through the current shift in consumer technology habits will find About Face: The Essentials of Interaction Design, 4th Edition to be an essential resource for:

Contemporary interface, interaction, and product design methods
Design for mobile platforms and consumer electronics
State-of-the-art interface recommendations and up-to-date examples
Full training and classroom materials for corporate trainings or university texts
About Face: The Essentials of Interaction Design, 4th Edition is now available in both print and all e-book formats. For a full list of retailers, visit http://www.wiley.com/buy/9781118766576.
# # #
About the authors:
Alan Cooper has been a pioneer in the software world for more than 40 years, and he continues to influence a new generation of developers, entrepreneurs, and user experience professionals.
Alan started his first company in 1976 and created what has been called "the first serious business software for microcomputers." In 1988, he invented a dynamically extensible visual programming tool and sold it to Bill Gates, who released it to the world as Visual Basic. This accomplishment earned Alan the sobriquet "Father of Visual Basic."
In 1992, Alan and his wife, Sue, cofounded the first interaction design consulting firm, Cooper. By 1997, Cooper had developed a set of core design methods now used across the industry. Personas, which Alan invented and then popularized in his two best-selling books, About Face and The Inmates Are Running the Asylum, are employed almost universally by user experience practitioners.
Today, Alan continues to advocate for more humane technology from his farm in the rolling hills north of San Francisco.
Robert Reimann has spent over 20 years pushing the boundaries of digital products as a designer, writer, strategist, and consultant. He has led dozens of desktop, mobile, web, and embedded design projects in consumer, business, scientific, and professional domains for both startups and Fortune 500 companies alike.
One of the first designers at Cooper, Robert led the development and refinement of many of the Goal-Directed Design methods described in this book. In 2005, he became the founding president of IxDA, the Interaction Design Association (http://www.ixda.org). He has led user experience teams at Cooper, Bose, frog, and Sonos and is currently Principal Interaction Designer at PatientsLikeMe.
David Cronin is a Design Director at GE and a member of GE's Design and Experience studio leadership team. Prior to that, he was Director of Interaction Design at Smart Design's San Francisco studio and a former Managing Director of Interaction Design at Cooper.
David has helped design products to serve the needs of surgeons, museum visitors, investment portfolio managers, nurses, drivers, dentists, financial analysts, radiologists, field engineers, manufacturing planners, marketers, videographers, and people with chronic diseases. During his time at Cooper, he contributed substantially to the principles, patterns, and practices of Goal-Directed Design.
Christopher Noessel designs products, services, and strategy for health, financial, and consumer domains as Cooper's first Design Fellow. He has helped visualize the future of counterterrorism, built prototypes of new technologies for Microsoft, and designed telehealth devices to accommodate the crazy facts of modern healthcare.
Prior to working at Cooper, Chris cofounded a small interaction design agency, where he developed exhibitions and environments for museums. He was also Director of Information Design at marchFIRST, where he helped establish the Interaction Design Center of Excellence. In 2012, he coauthored Make It So: Interaction Design Lessons from Science Fiction. He publishes regularly to the Cooper Journal and continues to speak and teach around the world.
About Wiley:
Wiley is a global provider of content-enabled solutions that improve outcomes in research, education, and professional practice. Wiley's Professional Development business creates products and services that help customers become more effective in the workplace and achieve career success. It brings to life the ideas and best practices of thought leaders in business, finance, accounting, workplace learning, management, leadership, technology, behavioral health, engineering/architecture, and education to serve these communities worldwide.
Founded in 1807, John Wiley & Sons, Inc. (NYSE: JWa, JWb), has been a valued source of information and understanding for more than 200 years, helping people around the world meet their needs and fulfill their aspirations. Wiley and its acquired companies have published the works of more than 450 Nobel laureates in all categories: Literature, Economics, Physiology or Medicine, Physics, Chemistry, and Peace. Wiley's global headquarters are located in Hoboken, New Jersey, with operations in the U.S., Europe, Asia, Canada, and Australia. The Company's website can be accessed at http://www.wiley.com.