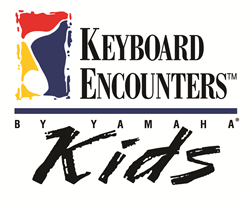 By offering Keyboard Encounters Kids to independent piano teachers, we expect that even more youngsters will be able to learn the piano and develop a lifelong love and appreciation of music," said Charles Anderson.
(PRWEB) September 17, 2014
Yamaha Corporation of America has expanded its widely successful Keyboard Encounters Kids piano program to independent music teachers for the first time starting this month.
"Offering Keyboard Encounters Kids to independent piano teachers is both exciting and a natural progression for this dynamic, interactive group piano instruction program, following our expansion of it to include high end Yamaha keyboards last year," said Charles Anderson, Yamaha Keyboard Encounters Director. "Piano teachers with independent studios are now able to enjoy the benefits of this innovative program, just as a steadily growing number of dealers and music schools across the country do now."
Keyboard Encounters Kids was designed for children ages 7 through 9, launched in 2003, growing out of Yamaha's flagship Keyboard Encounters program for piano students aged 10 through adult that was developed more than two decades ago. Up until the summer of 2013, learning classrooms for each program were equipped with Yamaha Clavinova digital pianos and specially designed accompaniment software. In recent years, Yamaha has expanded its keyboard line to include 76- and 88-key instruments—for example, Piaggero, YPG and DGX series—that not only are highly affordable, but also offer a weighted touch and pleasing piano tone that appeal to an increasing number of piano teachers.
Yamaha Music Education then painstakingly adapted the pioneering software for these keyboards, while maintaining the quality and efficiency of the learning experience through Keyboard Encounters and Keyboard Encounters Kids.
"Evolving from only Clavinova digital pianos to include high end, quality keyboards and other more affordable Yamaha instruments significantly expanded access to our program. By offering Keyboard Encounters Kids to independent piano teachers, we expect that even more youngsters will be able to learn the piano and develop a lifelong love and appreciation of music," Anderson explained.
Private music teachers who apply to be part of Yamaha's interactive group instruction program will receive special pricing for classroom instruments and a Keyboard Encounters Kids "Teacher's Kit & Kaboodle." The package includes an educator's training DVD and teacher's manual; a CD-ROM with sample lesson plans, forms, student worksheets and more; a class accompaniment flash drive; and student textbooks for each of the program's four nine-week lessons.
Independent teachers will also have access to promotional materials to draw more students, posters, brochures and counter cards to advertise and explain the benefits of Keyboard Encounters Kids to parents exploring piano instruction options for their children.
Interested teachers can visit http://4wrd.it/KEK to fill out an application.
-END-
About Yamaha
Yamaha Corporation of America (YCA) is one of the largest subsidiaries of Yamaha Corporation, Japan and offers a full line of award-winning musical instruments, sound reinforcement and home entertainment products to the U.S. market. Products include: Yamaha acoustic, digital and hybrid pianos, portable keyboards, guitars, acoustic and electronic drums, band and orchestral instruments, marching percussion products, synthesizers, professional digital and analog audio equipment, Steinberg recording products and Nexo commercial audio products, as well as AV receivers, amplifiers, Blu-ray/CD players, iPod docking systems, home-theater-in-a-box systems and its exclusive line of Digital Sound Projectors. YCA markets innovative, finely crafted technology and entertainment products and musical instruments targeted to the hobbyist, education, worship, professional music, installation and consumer markets.