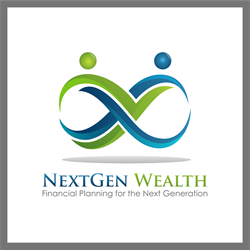 Will Your Financial Advisor Retire Before You Do?
Kansas City, MO (PRWEB) September 16, 2014
Today is the unveiling of a next generation financial planning firm in the Kansas City area focused on working with younger professionals, entrepreneurs and business owners. Through comprehensive goal-based planning, with an emphasis on behavioral investment management, NextGen Wealth prides itself on efficiencies and simplicity. Their goal is to make the planning process fun and exciting, while also educating the client every step of the way.
Clint Haynes, founder and financial planner, has been in the financial services industry since 2001. "After being in the industry for a few years, it became quite apparent that if you didn't have $1,000,000+, you simply weren't a "good" client for most firms. With that being the case, I wanted to create a practice that was centered on working with individuals similar to me and my age demographic, who truly were (and still are) overlooked and underappreciated."
At NextGen Wealth they specifically cater to younger professionals, entrepreneurs and business owners with the majority of their clients being in their late 20's, 30's and 40's.
"It's been an exciting calling working with individuals and families going through similar situations who share many of the same needs, wants and goals. Plus, we are one of the select few firms in the United States that specifically caters to this younger/mid-life age demographic."
NextGen Wealth is a Registered Investment Advisor utilizing Charles Schwab as its custodian for client assets. Through technology and innovation, they strive to help clients find their path to financial independence.

Personalized Vision Statement
Financial Automation
Personal Financial Dashboard
Account Aggregation
Behavioral Investment Management
For more information, please visit NextGen Wealth.
NextGen Wealth is a registered Investment Advisor. Information presented is for educational purposes only and does not intend to make an offer or solicitation for the sale or purchase of any specific securities product, service, or investment strategy. Investments involve risk and unless otherwise stated, are not guaranteed. Be sure to first consult with a qualified financial advisor, tax professional, or attorney before implementing any strategy or recommendation discussed herein.