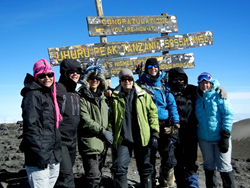 As a company focused on travel and outdoor products, "It was a natural fit for us," said Jen Panattoni, Director of Marketing. "We want to demonstrate that travel can be rewarding as well as fun."
Elk Grove Village, IL (PRWEB) October 03, 2014
L.C. Industries, Inc.™ is pleased to announce its partnership with the American Foundation for Children with Aids (AFCA). One of the top 20 organizations in the US dedicated solely to HIV/AIDS, AFCA has helped thousands of African children affected by this disease since 2005.
Focusing primarily in Kenya, Uganda, Zimbabwe, and the Democratic Republic of Congo, the organization seeks to promote self-reliance through training initiatives, provide comprehensive services for children and their families/caregivers, and support communities that are underserved and marginalized.
One of AFCA's programs includes "Vacation with a Purpose," which provides participants with a way to give back while on break. Projects range from repairing homes to gardening to teaching English. The participants interact with the community by attending events, playing games, and more.
In addition, AFCA leads several climbs, including one to Mt. Kilimanjaro. Individuals and teams fundraise throughout the year to raise money for their trips and must reach a minimum of $8,000 to attend, which includes a $5,500 donation to AFCA.
"With L.C. Industries, Inc.'s donations, we'll be able to keep event participants motivated by providing them with items they need for their trips, whether it is to climb Mt. Kilimanjaro, to run in a 5k, or to volunteer in Africa," said Tanya Weaver, Director of AFCA. "Their donations will be used as gifts and incentives for those who are fundraising for us."
The American Foundation for Children with Aids is a well-renowned organization with dedicated staff, expansive programs, and the resources to give children affected by HIV/AIDS a second chance. Please consider donating to them today.
About L.C. Industries, Inc.
L.C. Industries, Inc. began with the manufacturing of luggage caddies in 1971. Since then, it has expanded to offer over 500 products in categories, such as security, comfort, convenience, and health. L.C. Industries, Inc. owns several internal brands, including Lewis N. Clark® and Belle Hop®. For more information, visit http://www.lcibrands.com.