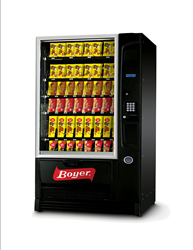 "We offer a unique 3 step program" -Deborah Forgione
(PRWEB) September 17, 2014
Mallo Cups along with their Original Peanut Butter Cups, Smoothie Cups and Dark Chocolate Mallo Cups are now available through Boyer's new Vending Program Nationwide.
"We offer a unique 3 steps program," says Deborah Forgione, Director of Marketing. Step 1-Distributor Program, Step 2- Vend Operator Rebate Program, the deepest rebate in the industry up to 15% and Step 3- The oldest consumer rebate in the industry, The Play Money Program. This is where consumers can earn cash and prizes by saving coin cards still in every pack, which boasts a 5 ½ rebate nationwide.
Boyer's plans also call for adding Giant Size bars to the Vend Program as well as developing a bag line to address the ever growing micro markets.
Boyer currently distributes all vend products through Vistar, Mclane's, Core-Mark, Dot Foods and all other major vending distributors nationwide.
High resolution jpegs are available upon request.