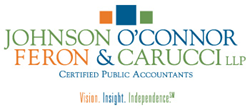 Johnson O'Connor Feron & Carucci LLP is ranked among the 50 largest CPA firms in the Boston area by the Boston Business Journal.
Wakefield, MA (PRWEB) September 19, 2014
Johnson O'Connor Feron & Carucci LLP (Wakefield, MA) and Hartnett & Company (Winchester, MA) announce the merger of their two firms effective October 1, 2014. The combined firm will operate under the name Johnson O'Connor Feron & Carucci LLP (JOFC) and operate out of a new office in Wakefield at 101 Edgewater Place. Michael Hartnett, owner of Hartnett & Company, will become a partner at JOFC. All staff of the two firms will be retained and the newly merged firm will employ 40 individuals.
The merger provides additional resources and expertise to allow JOFC to better serve its core client base of middle-market, owner-managed, family run, and entrepreneurial-backed entities throughout greater Boston. JOFC's specific expertise extends to industries including real estate, professional services, high technology, construction, healthcare and medical/dental, retail, and manufacturing. In addition, the Firm has dedicated service teams for employee benefit plan audits and third-party administration of retirement plans.
JOFC president Stephen Feron said, "We're thrilled to welcome Michael and his team to JOFC, and are excited about the opportunities this combination offers our clients and our staff. While a merger is an easy way to quickly grow the top line, a merger that ensures a cultural fit for all constituencies is more elusive. Based on the rigor of our due diligence conversations, we expect our new entity to maintain and elevate the culture of quality and client service that our individual firms have delivered for over 95 years combined."
Michael Hartnett said, "My team and I look forward to working in an environment that places as much importance as we do on high quality service. The new, larger firm expands offerings for our clients, and provides more opportunities for our staff for professional growth. We would not have considered this opportunity to combine resources unless it provided significant advantages for both our respective clients and staff."
Johnson O'Connor Feron & Carucci LLP was founded in 1945, and for several years has been ranked as one of the 50 largest CPA firms in the Boston area by the Boston Business Journal. Hartnett & Company was founded in 1987 and has been providing comprehensive tax and financial services to clients in the greater Boston area and eastern seaboard for over 26 years.
Learn more at http://www.jocllp.com.