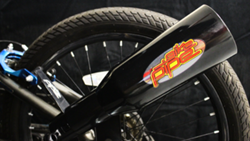 provide the Bike Pipe to Children all over the nation before Christmas day.
(PRWEB) September 22, 2014
Bike Pipe, LLC is ready to begin production on their new toy, The Bike Pipe, a universally attachable exhaust kit which improves the classic idea of putting cards in the spokes. They've began an Indiegogo Campaign to help fund the project. Through a partnership with local Texas manufacturers and distributers, they are set to launch in December. Pre-Orders are being accepted now and will be delivered before Christmas, no batteries required.
Creator and founder Adam Smith started riding dirt bikes when he was eight, he loved the noise from his dirt bike, and wanted to make his street bike have that same sound. The idea for the Bike Pipe came when Mr. Smith ruined one of his dad's rare baseball cards by putting it in the spokes of his bike, which inspired his father to come up with a more durable solution. "The Roaring bicycle exhaust kit makes your bicycle look and sound like a real dirt bike. My product replicates the motorcycle look and sound making every bicycle roar and exciting," said Mr. Smith.
The Bike Pipe is made of strong plastic reeds that smack the spokes, creating a loud robust sound, which can be easily turned on or off. The noise is then amplified through a horn shaped exhaust which increases the awareness of the rider to pedestrians and other vehicles. This increases awareness of riders, which is usually children, to pedestrians and vehicles, and improves overall safety and well-being of the rider.
"I have focused my attention on this product for the past two years and I am very excited about how far we have come. I am just a couple steps from launching my childhood toy and making this dream come true," said Mr. Smith. Each order comes with the exhaust kit, reed, and stickers. The goal is to provide the Bike Pipe to children all over the nation before Christmas day.
For more information about the campaign, please go to: http://indiegogo.com/at/bikepipe.
About Bike Pipe, LLC:
Founder and creator Adam Smith has achieved success with the launch of TexasBartenders.com, a legitimate mobile bartending business. However, Bike Pipe was always his dream. For two years he has focused on Bike Pipe, and through partnering with local Texas manufacturers and distributers Bike Pipe, LLC is ready to launch his childhood toy to the masses. For more information, please visit: http://BikePipe.com.