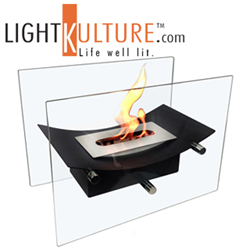 The Moda Flame brand of portable fireplaces offers a stylish option for adding the warmth and beauty of fire to your environment.
San Francisco, CA (PRWEB) September 23, 2014
LightKulture.com is ready for Fall with innovative and environmentally friendly, open fireplaces by Moda Flame. "Since today is the first day of Fall, I can't think of a better product to share with our customers than these beautiful, clean burning bio ethanol fireplaces," noted Susan Inderbinen, President of LightKulture.com.
The sleek and stunning designs of Moda Flame will enhance the atmosphere with a warm orange glow of dancing flames. Bio Ethanol fireplaces use clean and renewable energy sources. These fireplaces do not require any installation or utility connection for the fuel supply, which makes them ideal for apartments, houses, hotels or restaurants. Bio ethanol fuel is a renewable energy source made from fermenting sugar, starches and plant by-products. Ethanol can not be sold in its purest form to avoid human consumption. Ethanol producers denature ethanol with various substances for resale, which is then called Denatured Ethanol.
Moda Flame Bio Ethanol fireplaces are safe.They are designed to insure no one gets too close, but the material never gets too hot to the touch, so there is no chance of getting scalded. They are portable and odorless. Any scent from extinguishing the flame dissipates very quickly.The mechanism is simple; with minimal residue they are easy to use and maintain. The only emission is water vapor and negligible amounts of carbon dioxide. They pose no health risks to people or the environment. The fireplaces are economical to run. The average 5-liter fuel can will keep a fire going for between 8-20 hours. Simply remove the fireplace from the box, add fuel and enjoy it. With no smoke emissions or residue there is no need to install a chimney.
For more information go to
Moda Flame http://www.lightkulture.com/brands/Moda-Flame.html
Moda Flame, Portable, Smokeless, Bio Ethanol Fireplaces Ready To Use From LightKulture.com
"The Moda Flame brand of portable fireplaces offers a stylish option for adding the warmth and beauty of fire to your environment. The dancing flames are hypnotic to watch, whether mounted on the wall, placed on a table as a centerpiece, or using one of the floor models to enjoy the flame. The quality construction and contemporary styling show your good taste and creativity of bringing the warmth and glow of fire into your living space in a unique and interesting way. The portable table top fireplaces also make a great holiday, wedding or housewarming gift. Not sure which fireplace to choose as a gift? Our gift certificates are a great way to take the guess work out of deciding which fireplace your friends or family would like for themselves. Contractors and designers, who may require a number of fireplace for a particular project, are encouraged to register with our trade partner program," noted Susan.
About LightKulture.com
At LightKulture.com, our mission is to offer the finest energy efficient contemporary lighting and light fixtures from around the world. We have assembled an exciting collection of the industries most innovative decorative and architectural lighting.We are proud to offer lighting solutions for both your home and work-life environments. Simplicity is design is complicated, function makes it last. Be inspired by our range of essential designs from well respected American and European manufacturers. In today's world, energy efficient lighting is as important as eco-friendly or green lighting fixtures, such as LED or CFL lighting. We offer the very best energy efficient lighting and light fixtures, both high value LED lighting fixtures and CFL lighting fixtures in modern and contemporary styles that provide quality, innovation and authenticity.
LightKulture
http://www.lightkulture.com/
Email. sales(at)lightkulture(dot)com
Tel. 954-330-0422