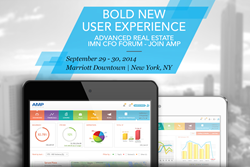 Leading the future of Commercial Real Estate takes dedication to continuously improve and always view things from a different perspective.- Neel Naicker, CEO and Co-Founder of AMP Technologies
Silicon Valley, CA (PRWEB) September 16, 2014
AMP Technologies announces they will introduce a completely redesigned User Experience on September 29th 2014 at the IMN CFO Forum in N.Y.
Users will be taken to another dimension of excellence with a new intuitive design and smooth integration, making the experience of analyzing information, and taking action on performance metrics more simplified than ever before.
Click To Get A Sneak Peek – CLICK HERE
AMP is THE Cloud Based Asset Management Platform For Commercial Real Estate. All capabilities and services are specifically customized for the Real Estate Industry – You won't find this powerful combination anywhere else in the marketplace. Connecting key metrics and operational intelligence to drive performance to a whole new level, all in real time.
Tapping into innovation through best-of-breed mobility, cloud infrastructure and collaboration to deliver business intelligence focused on revenue health, risk management and tenant strength. AMP maximizes revenue opportunities so organizations gain extraordinary results. Now with the NEW simplified experience, nothing will stop Users from driving powerful outcomes and having an edge in every aspect of the business. The competitive advantage gained with the new AMP platform will yield faster results and deeper tenant insights.
Neel Naicker, CEO and Co-Founder at AMP said, "Leading the future of Commercial Real Estate takes dedication to continuously improve and always view things from a different perspective. The power of AMP comes from working directly with clients, top industry leaders and tapping into the most innovative capabilities technology has to offer. My personal commitment is to continuously improve the performance of every organization by utilizing the best technology has to offer. The announcement on September 29th hits the mark and will showcase a new and different way to enhance transparency, accountability and deliver real performance with an advanced and simplified user experience that reaches all levels in the organization."
Not only has AMP accelerated their technology footprint in the last year, they also continue to be recognized as one of the top companies innovating in the industry as a whole. Providing advanced excellence through their dynamic platform while saving clients significantly on costs and increasing efficiency with scale. AMP is the ultimate Commercial Real Estate Company, seamlessly closing the gap between strategy and execution.
View The Latest Advancements In Technology – CLICK HERE
AMP also continues to see top Commercial Real Estate organizations request to sign up for their innovative platform and utilize their cost effective service offerings around due diligence, property accounting, lease administration, asset management and data standardization. AMP combines best-of-breed performance with speed and accuracy. Their company is built on what clients need to make their job easier – simplicity is at the core. Intuitive and innovative solutions drive a profitable business; this is what AMP delivers.
Visit AMP Technologies – CLICK HERE
About AMP Technologies
Headquartered in Mountain View, California, AMP Technologies provides a suite of products and services for commercial real estate asset management. The AMP Technologies Platform is a powerful, yet highly intuitive, platform to monitor and manage individual properties and large portfolios. Its products are built on best-of-breed cloud technology and are designed for the modern enterprise to provide sophisticated business intelligence, collaboration and management tools. With a comprehensive, yet highly intuitive, platform for monitoring and managing individual properties to entire portfolios, AMP provides the key tools needed for every level of management for effective analysis and decision-making.