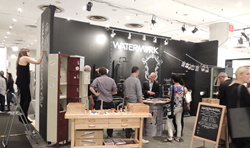 "Creating an interactive space that allowed visitors to participate with the products and engage with our clients went way beyond just showing up and being 'sold' to. It's experiential marketing at its finest," said David Schlocker
Washington, D.C. (PRWEB) September 16, 2014
DRS and Associates was presented with the Gold Award for Best Trade Show Marketing Strategy as part of the Hanley Wood's Brand Builder Awards, 2014 during the Hanley Wood Foundation Conference that took place on September 10-11, 2014.
Hanley Wood's Brand Builder Awards recognizes the most innovative and effective marketing campaigns throughout the residential and commercial design and construction industries. Companies selected for recognition have executed campaigns that generate sales, motivate buying behavior and inspire customer loyalty. More than 50 companies submitted entries in 22 categories, ranging from traditional advertising campaigns to social and mobile marketing strategies to lead generation programs.
David Schlocker, founder and principal of DRS and Associates was present to receive the award. Working on behalf of their client, Brooklyn-based faucet manufacturer Watermark Designs, DRS conceived and designed a multi-layered experience for their client including an interactive booth, a contest and a social media strategy; all designed as an homage to the rich and diverse manufacturing culture of Brooklyn.
"We are thrilled to honor DRS and Associates as a Gold winner in the Best Trade Show Marketing Strategy category of our Brand Builder Awards," said Peter Goldstone, CEO of Hanley Wood. "Their adoption of distinctive, modern approaches to marketing, and the results of their work, offer great insight into the leadership and innovation within their company. I congratulate David Schlocker and the team at DRS and Associates for this achievement."
"When creating a marketing strategy for trade shows, our first task is always to explore how can we tell our client's story within the confines of a trade show booth and create an emotional (meaningful) connection between our visitors and the brand's DNA. With Watermark Designs, we knew we wanted to utilize and leverage their 'Made in Brooklyn' mission, and once we broke through the barrier of having the booth walls designed by a chalk artist 'on-site' – that opened us up to breaking other traditional trade show ideas. Why not build your own faucet? The more we thought about letting attendees get their hands on the product, the better the idea seemed. This particular trade show is attended by architects and designers, and who better to want to play with life-sized 'Legos' to explore their inner creativity," said David Schlocker, founder and principal of DRS and Associates.
This was the 2nd Annual Brand Building Awards program and brands and marketers were able to submit their work in numerous categories, such as; Best Advertising Campaign, Digital Best Advertising Campaign, Print Best Custom Media Execution, Best Integrated Consumer Campaign, Best Social Media Strategy, and Best Trade Show Marketing Strategy. More than 150 companies submitted entries this year.
The entries were judged by a prestigious group made up of high-level experts in the fields of graphic design, architecture and marketing. This year's panelists were:

Michael Bierut, Partner at Pentagram and Senior Critic of Graphic Design at the Yale School of Art
Andrew Davis Co Founder of Tippingpoint Labs, Speaker and Author of "Brandscaping"
Marsha Lindsay, CEO of Lindsay, Stone & Briggs
Tom Miller, Founder Miller Brooks, Inc. & Darwin Branded Environments
Their combined knowledge and expertise helped determine that best of the best in each category.
Watermark Designs' booth at the ICFF 2014 show was conceived and executed to not only express Watermark's love of Brooklyn but to engage attendees visually and physically. Attendees were actually able to build their own faucets at Watermark's booth, where their work was photographed, exhibited on a clothesline and entered into a contest. There was an active social media aspect to the contest as well as on-site judging by industry editors. Attendees were encouraged to tweet photos of their own faucet designs and the photos were also shown on Watermark's Facebook page. Every aspect of the Watermark Designs booth was carefully designed to tell the story of this smaller manufacturer's hands-on, earthy appeal. Along with the build-your-own-faucet, Watermark Designs engaged a chalk artist who used all the booth walls as a canvas for artistic expression. "Creating an interactive space that allowed visitors to participate with the products and engage with our clients went way beyond just showing up and being 'sold' to. It's experiential marketing at its finest. That is what trade shows should really be about – and we definitely achieved that once again," said David Schlocker.
About DRS and Associates
DRS and Associates is a boutique public relations, advertising and marketing agency specializing in strategic communication programs, direct and digital marketing campaigns and comprehensive, experiential branding. With offices in Los Angeles, New York and Boston, their creative approach to targeting luxury lifestyle consumers and the architectural, interior design, hospitality and building products arenas is both strategic and effective. DRS partners with manufacturers, importers/exporters, resellers, and designers. They are recognized globally for their understanding and expertise of the niche A and D market. To learn more, visit http://www.drsandassociates.com
About Hanley Wood
Hanley Wood is the premier information, media, event, and strategic marketing services company serving the residential, commercial design and construction industries. Utilizing the largest editorial- and analytics-driven construction market database, the company produces powerful market data and insights; award-winning publications, newsletters and websites; marquee trade shows and executive events; and strategic marketing solutions. To learn more, visit http://www.hanleywood.com.
###