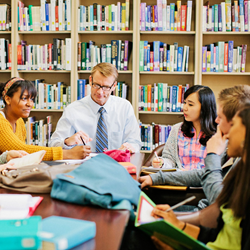 Costa Mesa, CA (PRWEB) September 16, 2014
September 16, 2014 – U.S. News & World Report released the 30th edition of its leading Best Colleges rankings, measuring academic excellence. Vanguard University in Costa Mesa, CA holds onto its spot in the top 12 Best Colleges in the West, with a new #5 ranking for Best Regional College in the West for veterans.
The 2015 edition of Best Colleges includes data on nearly 1,800 schools nationwide to help parents and students navigate their college and university options. Eligible schools are ranked on up to 16 measures of academic excellence such as graduation and retention rates.
For the first time, each ranked college's profile page on the U.S. News & World Report website features three-year federal loan default rates, as published by the U.S. Department of Education. This can be used as a guide for how a school's recent graduates handle their loan payments.
"How to plan and pay for college is a challenge parents around the country face each year," said Anita Narayan, education editor. "Our paying for college resources and tips are designed to help families more easily navigate this complex process, from saving for college and understanding financial aid options to paying off student loans."
U.S. News & World Report is a multimedia publisher of news, consumer advice, rankings and analysis. Focusing on Education, Health, Personal Finance, Travel, Cars and News & Opinion, http://www.usnews.com has earned a reputation as the leading provider of consumer advice and analysis that helps its readers make informed life decisions.
The highly ranked Vanguard University, located in the heart of Orange County, is a private, Christian university of liberal arts and professional studies, founded in 1920. A 4-year baccalaureate college, Vanguard University offers 30 majors and concentrations. Also offered are single and multiple subject teaching credentials, as well as graduate programs in education, religion, clinical psychology, organizational psychology, and nursing.
As a top veteran-friendly college in the U.S. News & World Report rankings for 2015, Vanguard's Veterans Center offers a range of services for vets, including career counseling and academic support, assistance in finding veterans benefits and connection to programs which can cover nearly all of their tuition.
For more information on the U.S. News & World Report Best Colleges rankings for 2015, visit http://www.usnews.com. To learn more about Vanguard University, visit http://www.vanguard.edu, and for the Vanguard University Veterans Center, visit http://www.vanguard.edu/veterans.
ABOUT VANGUARD UNIVERSITY
Vanguard University (VU) is a regionally ranked, private, Christian university of liberal arts and professional studies. Located ten minutes from Newport Beach and an hour from Los Angeles, Vanguard equips students for a Spirit-empowered life of Christ-focused leadership and service. Vanguard is committed to academic excellence, boasting small class sizes that are designed to cultivate lasting professor-mentor relationships that enhance the learning process. The U.S. News & World Report ranked Vanguard a top 10 regional college in the west for 2014 and The Princeton Review ranked Vanguard a 2014 "Best in the West" regional college. Accredited by the WASC Senior College and University Commission, Vanguard offers more than 30 degrees and certificates through its undergraduate, graduate, and professional studies programs. Please visit http://www.vanguard.edu
###