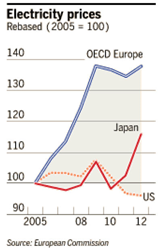 We don't see the cost-benefit of school boards buying a wind farm, becoming power producers and free market competitors on taxpayers' money? How is that their mandate?
Calgary, Alberta, Canada (PRWEB) September 16, 2014
Friends of Science Society is asking incoming Alberta Premier Jim Prentice and new Education Minister Gordon Dirks to review the use of Alberta taxpayers' education dollars to stop 'climate change' through wind farm investments and the commissioning of a purpose-built wind farm. Alberta Education's 2013-2014 Annual Report reveals a current investment of $6.4 million over 20 years in the Southern Alberta Wind Farm project with Enmax, along with an additional $3.2 million from the Alberta government all at a 5% interest rate (pg 125 note 5(2)).
"Our mandate is climate science," says Ken Gregory, research director for Friends of Science. "As such we end up reviewing the rational for such projects – frequently framed as a benefit to the environment. The evidence does not support this claim."
Gregory notes that in Freedom of Information and Privacy (FOIP) documents on the Alberta School Board's purpose-built wind farm project, it appears that participants may have been misled about power cost futures, having been provided with Regulated Rate Option prices (residential consumer price). Such numbers would be 30-40% higher than wholesale prices that school boards would typically pay, he notes.
"We're not privy to all the details," says Gregory, citing FOIP legislation restrictions on commercial contract details, "but the power market is very complex. We don't see the cost-benefit of school boards buying a wind farm, becoming power producers and free market competitors on taxpayers' money? How is that their mandate?"
Indeed, a review of the FOIP documents reveals that Red Deer School Division withdrew from the +20 year purpose-built wind farm PPA after doing a detailed cost-benefit analysis. Media reports indicate some other boards declined to participate, unwilling to commit to 25 year contracts with no op-out clause, far beyond the trustees' mandate of 4 or 5 years.
Friends of Science are troubled by the lack of transparency and market bargaining, citing a 2011 power point embedded in the agenda (pg 10) of Holy Spirit Catholic Schools Board Meeting wherein participants were told not to talk to the media or other providers.
However, the Fort Macleod Gazette of July 10, 2012 reports that at least one school board not only signed on to a 20 year contract, but also signed up for a new 25 year PPA starting in 2027 when the current PPA expires.
"Sadly, that same media report quotes participants as saying that there is strength in numbers and if the deal turns out to not be good, all 40 boards (if signed on) could go to Alberta Education for assistance," says Gregory. "This is hardly good business thinking."
Friends of Science initially questioned this project in early 2013 for being promoted as 'wind is free.'
"Though markets differ, wind power is not free, does not reduce carbon dioxide emissions and it destabilizes the grid," says Gregory.
An April 26, 2007 National Post report that Enmax was forced to build $2 billion natural gas peaking power plant to manage the variability of wind power. It is not clear how the costs of this project are distributed to taxpayers and rate payers.
According to Gregory, natural gas fired power plants are forced to ramp up and down to offset the enormous wind power variability, which reduces their efficiency and increases fuel consumption.
"Wind costs 3-10 times the cost of conventional power when costs of back-up facilities and transmission line upgrades are included," says Gregory.
"In Alberta, according to information we received from IPPSA, the Independent Power Producers Society of Alberta, taxpayers have paid to install some $2-3 billion in wind transmission lines – all for only 3.6% of our electrical energy. Where is the cost-benefit analysis?" asks Gregory.
Friends of Science hold the position that the sun is the main direct and indirect driver of climate change, not carbon dioxide emissions.
About
Friends of Science have spent a decade reviewing a broad spectrum of literature on climate change and have concluded the sun is the main driver of climate change, not carbon dioxide (CO2). The core group of the Friends of Science is made up of retired earth and atmospheric scientists.
Contact:
Friends of Science Society
P.O. Box 23167, Mission P.O.
Calgary, Alberta
Canada T2S 3B1
Toll-free Telephone: 1-888-789-9597
Web: friendsofscience.org
E-mail: contact(at)friendsofscience(dot)org