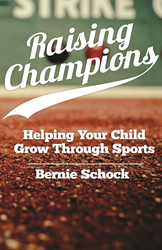 ""This book is a 'must-read' for parents involved in youth sports and for those who aspire to be called 'coach.'"- Brian Hansen, former NFL punter
(PRWEB) September 16, 2014
American families have doubled down on their commitment to kids' sports. More children are competing—nearly 50% more than 25 years ago and a tenfold increase in high school girls participation between 1970-2000! More children start earlier. More kids focus year round on one sport. More is demanded of these athletes—more practices, more games, more travel. More is required of their parents—more money, more support, more time.
Many parents feel like they're trapped in extra innings and wonder what to do about this flood of more. Bernie Schock has written this book to help parents raise kids whose passion and priority is to be God's champions in this world of more. The apostle Paul reminds us that physical training is of some value, but godliness has value for all things. Children's athletics provide many rich opportunities to help kids grow into men and women who love God whole-heartedly and others selflessly.
This book isn't simply Monday morning quarterbacking. Dr. Schock has lived this as a father, a fan, a coach, an athlete, and a referee. He admits that—at times—his involvement in sports interfered with his own love for God and others. Thus, this book seeks to direct both children's and parents' hearts. Parents will not be able to help their kids grow through sports until they understand why sports have such a powerful grip on many of them.
Children's sports can be a source of great delight—or great pain. But what makes for good and bad experiences? This book seeks to answer that question so that sports can provide rich blessings to children's development—physically, psychologically, socially, and spiritually.
Dr. Bernard Schock is the author of "Parents, Kids, and Sports: Remodeling the Family", as well as a professor of Biblical studies at the University of Sioux Falls, a father, a husband, a volunteer coach, a fan, and an athlete. Throughout his adult life he has sought to understand how sports and the sports world impact the development of children.
"Raising Champions: Helping Your Child Grow Through Sports" will be released September 16, 2014 in trade paperback (978-1-939447-52-4) and in e-book (978-1-939447-53-1).