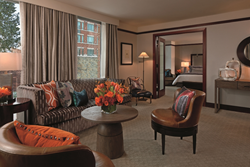 Washington, D.C. (PRWEB) September 16, 2014
The Ritz-Carlton Georgetown, Washington, D.C. has revealed a fresh, new look with luxurious enhancements to its 86 spacious guest rooms and suites. Inspired by Georgetown's rich past as a thriving waterfront industry, the re-imagined guest rooms and suites feature a blend of vintage and industrial-chic elements, complemented with fine details, contemporary artwork and state-of-the-art technology.
Designed by Rockwell Group, the award-winning architecture and design firm, each guest room and suite has been artfully designed to contrast the luxury hotel's chic exposed brick and metal features with a soothing color palette of earth tones, enhanced with stunning accents of sapphire blue and burnt orange throughout. Each room features soft lighting and award-winning design elements, such as handcrafted wallpaper by renowned artist, Maya Romanoff, Tolomeo desk lamps, and plush fabrics by David Rockwell for Jim Thompson. To complement the rich interiors, Rockwell Group designed custom wood paneling and antiqued mirrored artwork exclusive to the property.
To bridge the historic building's past to the present, the renewed guest rooms and suites will boast a collection of modern, custom and vintage furnishings, accented by custom light fixtures inspired by industrial elements. Each room is equipped for today's technology-savvy traveler with Bose 3-2-1® sound systems, Bose SoundLink® Mini Bluetooth® speakers, charge ports for iPod/iPhone/Android devices and 42 inch LCD high definition televisions.
For more information or reservations for The Ritz-Carlton Georgetown, Washington, D.C., please call the hotel directly at (202) 912-4100 or visit http://www.ritzcarlton.com/georgetown. Connect with us at http://www.facebook.com/RitzCarltonGeorgetown.
About The Ritz-Carlton Georgetown, Washington, D.C.
Nestled in one of Washington, D.C.'s most historic neighborhoods, The Ritz-Carlton Georgetown, Washington, D.C. exemplifies the new standard in modern luxury. The hotel's unique facility is a restored turn-of-the-century brick factory structure featuring a stunning lobby fireplace and a towering 130-foot smokestack, speaking to the building as a dramatic symbol of the 1930s waterfront industry. The AAA Five Diamond hotel was restored and opened in 2003, and offers 86 spacious guest rooms and suites; all of which offer majestic views of the Potomac River or the charming streets of Georgetown.
About The Ritz-Carlton Hotel Company, LLC
The Ritz-Carlton Hotel Company, L.L.C., of Chevy Chase, Md., currently operates 86 hotels in the Americas, Europe, Asia, the Middle East, Africa, and the Caribbean. More than 30 hotel and residential projects are under development around the globe. The Ritz-Carlton is the only service company to have twice earned the prestigious Malcolm Baldrige National Quality Award, an award that originated in 1987. Its purpose is to promote the awareness of quality excellence, recognize quality achievements of companies and publicize successful quality strategies. The Ritz-Carlton Hotel Company won the award in 1992 and 1999. For more information, or reservations, contact a travel professional, call toll free in the U.S. 1-800-241-3333, or visit the company website at http://www.ritzcarlton.com. The Ritz-Carlton Hotel Company, L.L.C. is a wholly-owned subsidiary of Marriott International, Inc. (NASDAQ:MAR).
###