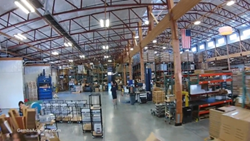 (PRWEB) September 25, 2014
Gemba Academy's most recent Gemba Live! series takes place in Bellingham, Washington at woodworking manufacturer FastCap. With almost three hours of footage, the series features FastCap President Paul Akers and Gemba Academy Co-Founder Ron Pereira as they tour the incredible facility.
Captured in part by flying drone cameras, Gemba Academy subscribers get an exciting inside look into one of the most passionate lean companies in the world. Highlights of the 20+ video sequence include an empowering morning meeting, a breakdown of FastCap's impressive lean bathroom, and interviews with several employees.
Subscribers, click here to view the full series. Not a subscriber? The first video is available for free.
About Gemba Academy:
Gemba Academy, a leading provider of video-based Lean Manufacturing and Six Sigma education, has delivered online training to more than 2,000 companies around the globe. Designed by and for real practitioners, Gemba Academy has revolutionized online training with their unique "site-based subscription" model. With more than 600 videos, Gemba Academy provides flexible solutions that can serve as a baseline for training or enhance existing continuous improvement efforts.