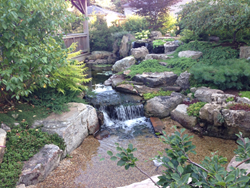 Highly Coveted Award Is Held by Only 30 Companies Nationwide
Kingwood, TX (PRWEB) September 17, 2014
Matt Griffin, owner of Prime Lawn/ IE Design Group Inc., has successfully completed the qualification process to become a Professional Certified Aquascape Contractor (PCAC). Certified Aquascape Contractors undergo years of training to gain their certification in this new technology in the water gardening industry. PCACs are trained and educated to install beautiful, low-maintenance water features, and provide quality workmanship, outstanding customer service, and knowledgeable assistance to their customers.
"Matt Griffin has demonstrated his ability to install professional, natural-looking water features while providing excellence in service to his customers," said Jeffrey Payton, vice president of business development for Aquascape. "We're proud to have Matt on board as a Professional Certified Aquascape Contractor."
Matt Griffin's passion for water and landscape design started at a young age. From the time he was ten years old, Matt started a landscape business, quickly moving past mowing lawns as he envisioned designs for his neighbors' yards. He went on to major in Horticulture at Texas Tech and established Prime Lawn/IE Design Group in 1994. "I guess you could say that I was born with a passion and a green thumb," states Matt. " I have an instinct for the ability to look at a yard like a blank canvas and then start creating a design that becomes a natural environment for that property."
Matt uses quality-grade professional products manufactured by Aquascape. As a Professional Certified Aquascape Contractor, he is able to provide the best in service and products for ecosystem ponds, Pondless® Waterfalls, and decorative fountains. Says Matt, "It's an honor to be the only Aquascape Certified contractor in the state of Texas and to be among only 29 other certified contractor in the country."
For information on Prime Lawn/ IE Design Group Inc. and its water feature services, visit http://www.primelawn.com or call (281-361-7858).
About Prime Lawn:
Prime Lawn is dedicated to designing and building your own personal sanctuary at home. Our professionals have the experience and expertise to develop your vision into a functional and inviting recreational or relaxation area.
We provide the highest quality products, customer service and maintenance to all of our clients, no matter how large or small the project. We are family owned and operated, ensuring the highest degree of integrity and attention to client relationships. Your finished project serves as our business card, so we always want to make sure you are completely satisfied, to the last detail.
We developed both residential and commercial projects from inception to installation. Allow us to access your project, budget and property for a complete analysis of your needs. we would love to develop your vision into a reality!
It will be our pleasure to help you with any of your Landscape Design, Hardscaping Design, Water Features, Irrigation & Drainage, Mosquito Systems, Landscape Lighting, and Eco-Friendly products for all of your residential and commercial needs including patios, outdoor kitchens and more.
About Aquascape:
Aquascape is North America's leading innovator in the water gardening industry. Aquascape invented the low-maintenance, naturally balanced ecosystem pond that is the # 1 contractor-installed water garden. The St. Charles, Illinois headquarters, dubbed "Aqualand," received Silver Level recognition in the Leadership in Energy and Environmental Design (LEED) Green Building Rating system. Aquascape's mission is to help our customers succeed at building, selling, and retailing water garden products. Aquascape and its vast network of Authorized AquascapePRO™ Distributors sell exclusively to contractors and retailers. Founded in 1991, Aquascape made the Inc. 500 list of fastest growing private companies four years in a row. In 2005, founder and CEO Greg Wittstock was named one of America's Best Bosses by FORTUNE Small Business Magazine and Winning Workplaces™. http://www.aquascapeinc.com