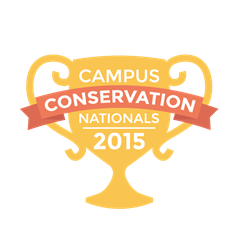 From February through April 2015, participating schools will have the opportunity to compete to reduce electricity and water consumption in the largest conservation competition for colleges and universities in the world.
Washington, D.C. (PRWEB) September 16, 2014
Organizing partners The Center for Green Schools at the U.S. Green Building Council, Lucid, the Alliance to Save Energy and National Wildlife Federation are pleased to announce the fifth annual Campus Conservation Nationals (CCN) competition.
From February through April 2015, participating schools will have the opportunity to compete to reduce electricity and water consumption in the largest conservation competition for colleges and universities in the world. Program registration runs today, Sept. 16 through Nov. 7, 2014, and is open to both two- and four-year institutions on http://www.competetoreduce.org
"The Campus Conservation Nationals competition builds on the success of the previous four years and empowers students to be leaders and change agents in the larger sustainability movement while advancing their own skills and experience," said Hannah Debelius, USGBC Students program manager at the Center for Green Schools at USGBC.
Students and staff will be able to use Lucid's Building Dashboard® to instantly compare performance, track standings among schools and buildings, commit to taking conservation actions and share ideas for reducing energy use. New this year, competition organizers will also be able to easily place competition standings on any website using Lucid's innovative new Building Blocks.
"Building Blocks are going to revolutionize schools' ability to engage and provide feedback to a wide audience," noted Chelsea Hodge, director of product engagement at Lucid. "They're ultra customizable – organizers can turn elements of a Block on or off and change the color and appearance to suit their needs – and can be created and embedded in a matter of a few minutes."
Last year, 265,000 people participated in the competition, taking personal steps and campus-wide actions to reduce the impact their campuses make on the environment, driving forward the sustainability movement and cultivating a broader culture of conservation. On average, through the competition, electricity consumption was reduced 4.5 percent per building, bringing total savings to 2.2 million kWh – the equivalent of taking 201 U.S. homes off the grid for one year.
CCN 2015 organizers will have access to a new Marketing and Behavior Change Guide, which explains outreach and behavior change strategies and highlights case studies from schools' past CCN competitions.
"Short-term competitions can be a great way to grab people's attention and jumpstart long-term behavior change campaigns," said Taylor McAdam, Alliance to Save Energy Education Associate.
"By inspiring thousands of students across the United States to take action to reduce energy and water use on campus, CCN supports the National Wildlife Federation's mission to foster the next generation of student leaders for wildlife and the environment," said Kristy Jones, senior manager of the Campus Ecology Program at National Wildlife Federation.
To learn more about the program, sign up to participate or follow leading schools, visit http://www.competetoreduce.org
###
About the U.S. Green Building Council
USGBC is committed to a prosperous and sustainable future through cost-efficient and energy-saving green buildings. USGBC works toward its mission of market transformation through its LEED green building program, robust educational offerings, a nationwide network of chapters and affiliates, the annual Greenbuild International Conference & Expo, the Center for Green Schools and advocacy in support of public policy that encourages and enables green buildings and communities. For more information, visit usgbc.org, explore the Green Building Information Gateway (http://www.gbig.org) and connect on Twitter (@USGBC) and Facebook (facebook.com/USGBC).
About the Center for Green Schools
The Center for Green Schools at USGBC is making sure every student has the opportunity to attend a green school within this generation. From kindergarten to college and beyond, the Center works directly with staff, teachers, faculty, students, administrators, elected officials and communities to drive the transformation of all schools into sustainable places to live and learn, work and play. For more information, visit centerforgreenschools.org or find us on Twitter (@mygreenschools) and Facebook (http://www.facebook.com/Centerforgreenschools).
About Lucid
Lucid is an industry leader and innovator in providing information feedback technology to save energy and water in buildings. The company pioneered the concept of real-time energy and water use feedback and reduction competitions with Building Dashboard and launched BuildingOS, the world's first online operating system for buildings. Lucid's software is used by the world's leading companies and institutions to manage thousands of buildings with $500 million in annual energy bills. Based in Oakland, California, Lucid is a privately held software company.
About Alliance to Save Energy
Alliance to Save Energy is a non-profit coalition of business, government, environmental and consumer leaders who support energy efficiency as a cost-effective energy resource and advocate energy efficiency policies that minimize costs and lessen emissions. To carry out its mission, ASE undertakes research, educational programs, and policy advocacy; designs and implements energy-efficiency projects; promotes technology development and deployment; builds public-private partnerships; and initiates collaborative efforts and strategic alliances. The Alliance's education programs—Energy Hog, PowerSave Schools (K-12) and PowerSave Campus (higher education)—bring students into the energy efficiency conversation and help them advocate for conservation in their communities.
About National Wildlife Federation
National Wildlife Federation is America's largest conservation organization. NWF works across the U.S. to protect and restore wildlife and habitat and connect people with nature. NWF has a 25-year history of working with colleges and universities to protect wildlife and advance conservation practices through its Campus Ecology Program, and through the NWF EcoLeaders community students can connect with each other, access resources to start projects on campus, and earn recognition for their leadership skills and positive impact on the environment.