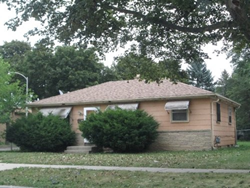 Chicago,IL (PRWEB) September 16, 2014
In carrying out its mission to strengthen and rebuild communities nationwide, American Homeowner Preservation ("AHP") recently received help from one of its homeowners who found a new family for a vacant Milwaukee property. AHP often deals with properties that are on the most affordable range of the real estate market and require a lot of work. Yet, through the help of reliable real estate agents, a persistent attitude and a commitment to success, AHP is reducing the number of vacant, decrepit homes blighting neighborhoods.
Three years ago, Brad found himself face to face with foreclosure. Brad sought the assistance of AHP, who was able to purchase his Milwaukee home at short sale and lease it back to him. This allowed Brad, his wife and their three children to remain in the home they still live in today. Now, as a real estate agent, Brad is working alongside AHP.
After AHP foreclosed on a Milwaukee property this past January, AHP contacted Brad to assist in listing and marketing the property. When Brad entered the property, he realized he and AHP had their work cut out for them.
"The condition of the property at the time was just brutal; it was horrible," Brad said. "When they left it, they left it just beat up and battered. We had to hire somebody to clean out the garbage and personal belongings."
Brad coordinated a clean-out of the property for AHP, but the next concern was maintaining the property as it sat vacant, waiting for a new owner. Vacant homes often attract trespassers seeking to use the property for shelter and to commit crimes, such as theft and vandalism. On Memorial Day weekend, Brad received a call from a neighbor who said the door had been kicked in on the property.
In repairing the door, Brad noted that it was clear this was not the first time it had been kicked. In Brad's experience, vacant properties tend to attract break-ins and vandalism regardless of location or value of the property. "They'll take the copper and the piping out and whatever material they can take for scrap to get that money," said Brad. "There was a $370,000 house in the Northwest corner of Milwaukee and it didn't matter to them. They kicked it in and took the copper and piping out of that house just the same as if it were a $20,000 house."
In an effort to preserve the property until sold, Brad offered his services to maintain the lawn and general exterior appearance of the property. "A house that's maintained, it's got grass that's cut and bushes that are trimmed-- it looks less vacant," said Brad. "From an outside perspective, you can't necessarily tell if anybody's in or out of it."
Brad eventually found a buyer that showed great interest in the property, and even got as far as scheduling a closing date on the deal. Yet, as the closing drew near, the buyer became unresponsive and eventually walked away from the deal. Brad said it was likely due to the condition and location of the property. This property was listed for just under $30,000 and finding the right buyer proved to be a challenge.
The right buyer eventually surfaced and, after eight months of hard work and dedication, AHP and Brad were able to rid this community of a vacant neighborhood menace. Brad is not sure whether the family will use it as an investment property or make it their home, but it is clear that the home will be cared for by somebody who is happy to have it.
"The day of closing I told the buyer I would meet them there. They were there before me, it was a large family, and they were already doing yard work and taking bushes down," Brad said. "They thanked me and told me they really appreciated what we were able to do for them."
American Homeowner Preservation is a socially responsible investment fund manager which empowers accredited investors to purchase equity in pools of distressed mortgages and earn returns of 9-12%. For further information or inquiries please visit https://ahpinvest.com or call 800-555-1055.