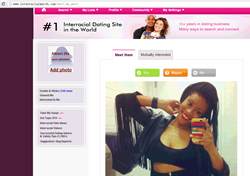 (PRWEB) September 20, 2014
Founded under the motto "Love Me. Love my Color," InterracialMatch.com is the world's largest interracial dating site, boasting a worldwide user base of singles. The site has added a new feature called "Let's Meet" which turns it into a rapid-fire spontaneous matching spree – it's like cupid shooting his bow on full-auto. The feature allows singles within their geographic proximity to rapidly connect with a quick yes/no/maybe interface. Click "Meet them", then users can play "Mutually interested". They can decide to grab a quick cup of coffee or another spur of the moment activity together.
InterracialMatch.com is more than just a dating site. It's a community for different ethnic groups who are comfortable in their like-minded attraction for different races. The process of joining InterracialMatch.com is simple and 100% free. Free members may then create profiles, add up to 26 photos, search for people by country, create a favorites list - and send unlimited winks. They'll receive an email alert if somebody on the site adds them as a favorite, winks, or sends a message.
The site is filled with true interracial dating success stories like the one from Joey Love and Carol Foreman, Dallas, TX: "Carol and I met a few months ago. She is from Arkansas, and I am in Dallas. I saw her simple profile and decided to reach out to her. We communicated for some time and discovered we really do click and "balance" each other. We went to Maui mid Feb. for my b'day and got engaged there!!! Who knew??!!"
InterracialMatch.com has been the matchmaker for hundreds of weddings since its launch 14 years ago in 2000. It's part of the lucrative niche dating sites that cater to a specific clientele. Up until recently, more people have found interracial matches, which makes InterracialMatch.com a popular site for people to change their fate or lifestyle.
To check out more details and join "Let's meet", please sign up or log in InterracialMatch.com, then click "Lets MEET" (new) from the left navigation bar.