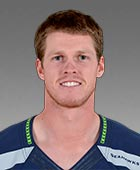 Seattle, WA (PRWEB) September 23, 2014
Seattle Seahawks punt returner and wide receiver Bryan Walters has agreed to work with Sports Marketing Partners, LLC (SMP) for endorsements and marketing partnerships.
SMP is a sports marketing and consulting company based in the Seattle, WA area with expertise in player endorsements, digital and social marketing, and community and public relations.
Walters is working with the firm to help build his endorsement portfolio.
Walters played his collegiate career at Cornell, where he was a standout receiver and special teams player. He holds numerous Ivy League and school records for all-purpose yards and was an All-Ivy League second team in 2009.
Walters, a Washington native, starred at Juanita High School in Kirkland, WA and grew up a Seattle Seahawks fan.
SMP is excited to add Walters to its roster of athletes.
"We are very happy to have Bryan join the SMP family," SMP Principal Steve Schwartz said. "He's a great athlete from the Seattle area with a lot of marketing potential. We're excited to assist in maximizing his brand value."
You can learn more about Sports Marketing Partners on the company's LinkedIn page: http://www.linkedin.com/company/sports-marketing-partners.